Well, f*&k me! I was seriously under prepared for that!
The DMR Ex mountain bike enduro. What a rad, tough, long …but genuinely awesome experience.
Words by Rich Thomas – Photos by Paul Box
Like so many, I've never ridden on Exmoor, seriously, never, and I only live an hour away, it is just somewhere where you don't think to go. I think the very rugged and vast nature of Exmoor keep people away, it is easier to go to a trail centre and just follow the signs. Humans like convenience and Exmoor isn't convenient!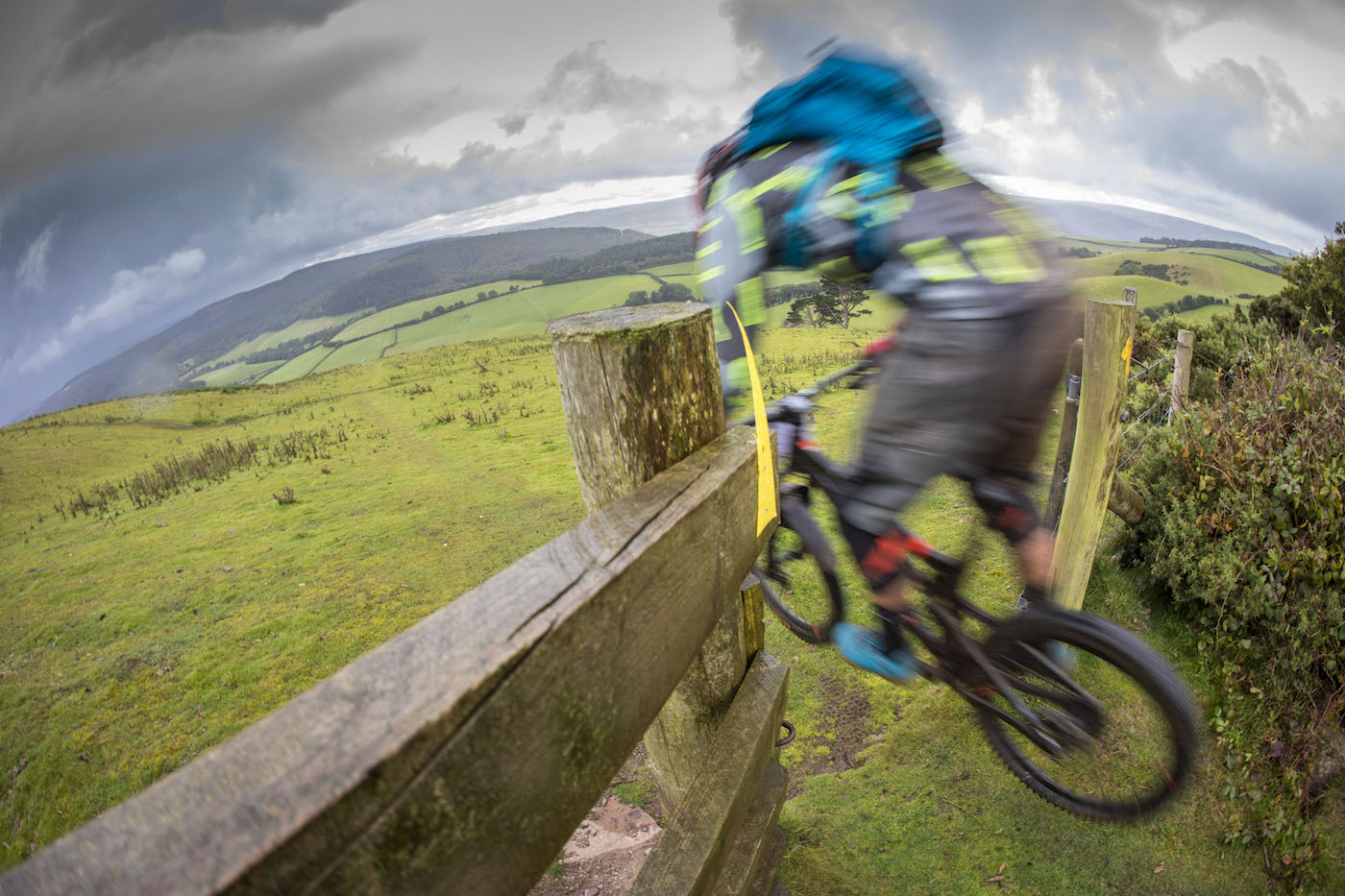 So, I arrived for day 1 of The Ex and I had no idea what to expect. I turned up, was handed a DMR Sled to race, ate a bacon sarnie and we were straight into the thick of it. There was an uplift to start the day but then it was straight into 41km of riding with 7 timed stages – it was a ride I really hadn't contemplated! I've ridden that far on the road and I didn't really see it as being that hard …I was wrong!
Stage one began at the highest point on Exmoor with amazing views over the channel to South Wales. The timed stage was flat out and open, blasting down the moorland with loads of fast straights and fun, easy corners. It was a good start to the race. It was a physical stage with a head wind and I pretty quickly realised that The Ex wasn't going to be a walk in the park. We finished the stage, traversed the hill to stage two and got our first taste of Exmoor loam.
Stage two didn't go quite so well – The Deakinator chased me down and I rolled a tire, which ended up with a flat. I cracked on though and, luckily, he's old so he still didn't catch me up!
The remainder of the day consisted of rain, pain but lots of loam gains. We ended up racing down the moors above Minehead and finally riding a stage untimed for day 3 back to the campsite. The organisers ran some stages blind and some with an un-timed run to get you warmed up – it worked nicely.
I rounded the day off in 12th place over all, to be honest, I wasn't surprised, I just had nothing on the pedalling. It was time to chill, have a few cold ones and some lasagne!
Day 2 was the big day. Yes, Friday's 6 hour epic wasn't the biggest day. We had just a mere 48km and 8 Stages to do.
We started off at Dunkery Beacon again but dropped off the opposite side of the hill and headed for Minehead and the old DH stages. I felt much better with a day in my legs and realised I needed to pull on the pedals a little harder if I wanted a decent result.
We started the day off on an untimed stage called the '2 miler' and made our way onto the ridge that's home to Avil Ball DH, a well-known track in the South West.
All 4 stages were within a small radius in these woods and left all the riders with smiles from ear to ear.
The riding is hard to put into words. It all flows so well and the terrain is old school pine forest so it's super loamy and forgiving when you're pushing hard. From these woods it was off to the moors above Minehead again and over back towards the campsite and the final stage into Allerford, a mach 10 speed tuck kind of stage. So after nearly seven hours in the saddle and plenty of pushing we got back to camp for burgers, cocktails and a rad DJ!
It wasn't long until I was in bed. Oh and on a plus, I'd worked my way back to 4th overall. Buzzing.
The final day was a mere 28km with six stages. They saved the best till last. We had six great stages on new and old tracks – all were loamy and had been ridden very little.
We were dropped in the woods above Minehead for another loam session. There were stages, all in the woods and with much less pedalling.
A highlight of the day would be quadzilla, a huge stage with sections that were as steep as the Llangollen downhill track, with loads of fresh, loamy grip. This was on what was arguably the best stage of the entire race, a 3+ minute long, loamy, rocky and fast trail, little pedalling just rad fun and challenging in places. It was a great way to end an epic 3 days.
We dropped back into base camp straight out of the final trail and dibbed in for our final times. I'd managed to win a few stages on day then and wracked up a few second and third places, but just couldn't quite catch up after day one. Regardless, it was all part of the fun and I was buzzing with a fourth place overall.
Jono Jones took the overall men's win which was good to see – we'd be riding round together with the Deakinator and crew all weekend and pushing ourselves on. He was riding on top form for all three days and deserved the top spot.Katey Wakely was fastest female and Finley Clay took the hardtail win.
If you like to challenge yourself, The Ex is for you. It's a physical challenge, but it's also a real buzz of adrenaline hitting stages blind and as fast as possible. If you love the idea of mixing that challenge with the social element of big rides with your mates, then this is the event for you. I'll definitely be back next year and for years to come.
Thanks to THE EX enduro for welcoming me to the event and to the guys at DMR for lending me a Sled to race.
Entries for the 2018 EX Enduro will open in Spring 2018, you can find out more on The-Ex.co.uk.
---