The Steel is Real Demo was a tribute to the dark art of steel and titanium bicycles.
It was the first of its kind and a chance for a whole host of steel bike brands and their creators to come together to celebrate their craft and give us lot a chance to ride the fruits of their labour.
The demo was the love child of Ben Mills and the Steel is Real MTB facebook group. Ben's group has been quietly worshipping Steel (and Ti) bikes for a while now and he decided that it was time to bring everyone together for a proper knees up.
The first ever Steel is Real demo went down at the Forest of Dean – here's what we saw.
Photos by Callum Philpott / Spelling mistakes by Jamie Edwards
Northern Metal
Building steel bikes is still a niche within a niche, but is slowly but surely becoming more accessible to passionate people with the will to learn. Geoff, AKA Northern Metal, built his first bike at Meanwhile Creative's studios in Bristol by hand from steel. He built it on days off, weekends and whenever he could squeeze in the time outside of his proper day job.
His first bike, seen here, was a bit of a project to teach himself how to build … and he's now doing all he can to get another small batch built for his mates.  Expect to see more Northern Metal in the new year!
Starling Cycles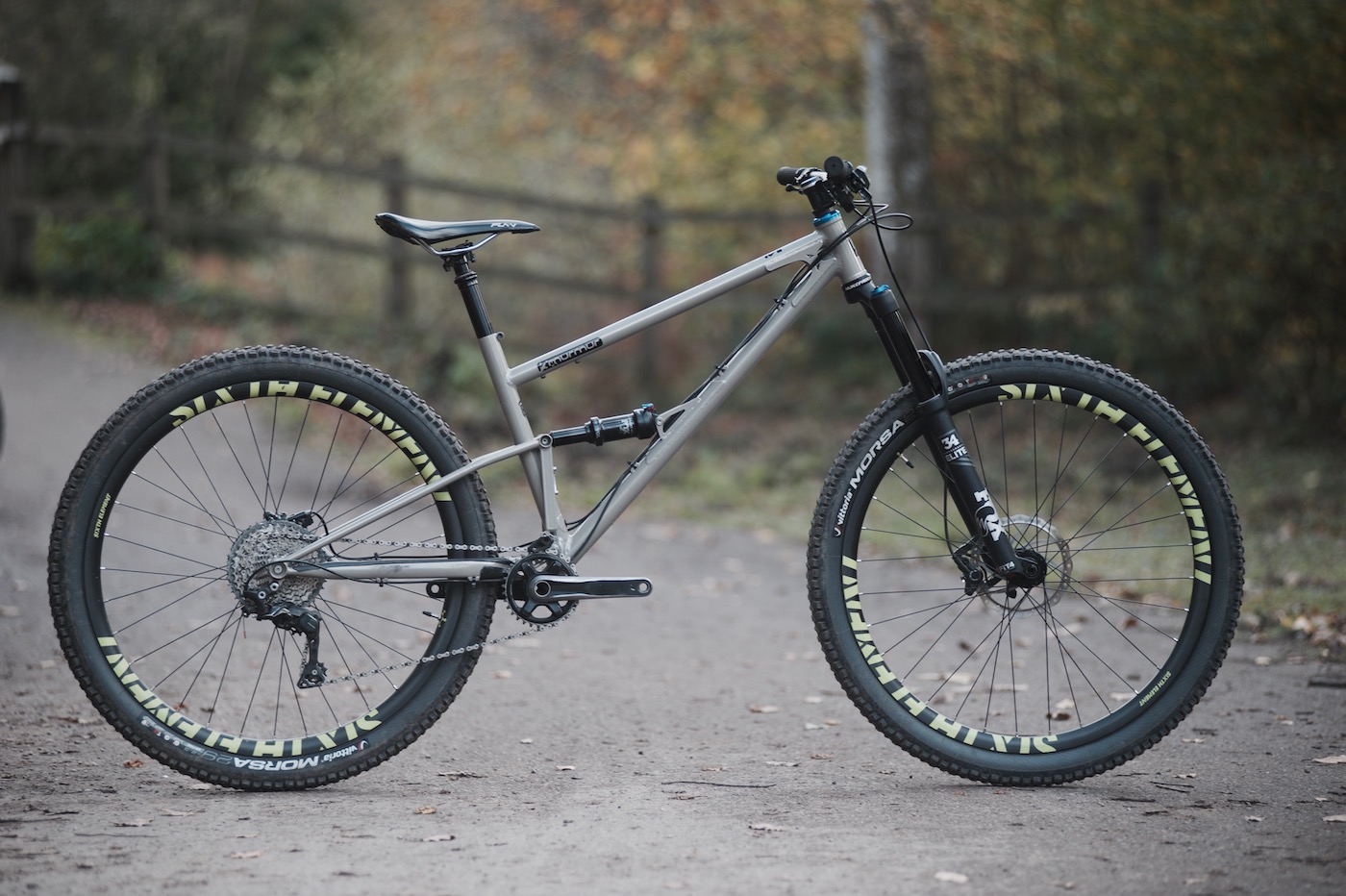 Starling Cycles are built in Bristol by Joe McEwan and are a name we've spent plenty of time talking about already here on Wideopen.
Joe builds his bikes by hand from steel and offers custom geometry, custom paint jobs and has the 27.5″ wheels Swoop, 29″ Murmur and single speed Beady Little Eye. Joe spent his career working in aerospace trying to spot faults in carbon aircraft wings and now believes in strong, silent steel bikes that are, he says,  "simple to setup, understand and ride".
The good news is that if you want a Starling, Joe has just opened his order book up for a limited time. It doesn't happen often so, don't miss out.
Stanton
Stanton are designed in the UK and hand built from Steel in Taiwan. They're designed by Dan Stanton who works up north in Matlock. Dan's hardtails have long been a favourite of ours and were one of the original new school hardcore hardtails with slack, long, low geo.
Don't mistake their Asian fabrication for a lack of pedigree, Dan told us that on his last trip to the factory in Taiwan he was stoked to meet the man who had built his entire last batch and was really impressed to see how proud the Taiwanese builder was of his work.
Dan has some huge plans for 2018 and will be setting up his own workshop in the new year to hand build and paint his own frames, including his new full suspension bike.
Cotic
The big dogs of the show. Cotic bikes have done more for the reputation of steel than any of the others at the demo put together and their Rocket, Flare and BFe frames have been a huge force in showing people how fast and fun steel can be.
We're looking forward to getting our hands on the new generation Cotic BFe in the next couple of weeks.
Production Privee
Born and bred in Andorra, Production Privee is made up of just three people. Damien, shown here is one of the team and is in charge of bike design. He was over especially for the show from Andorra and was savagely hungover after a night out in Brighton with his UK dealer DDCycles.
The Production Privee Shan no5 is their steel full suspension bike, designed to be strong on what Damien calls "mechanical grip", inspired by motorsports. That is, bikes that flex where it matters and are stiff where they need to be. Their philosophy is that "lighter and stiffer" is all well and good for Aaron Gwin but for the guys that want to ride all day long, a forgiving bike that "takes you by the hand and takes you to the next turn" is more important.
We've got an awesome interview with Damien coming as part of our Steel is Real Builders Interview series.
Ted James Designs
Ted wasn't actually exhibiting …instead he was out for a shred with his little lad, both riding bikes they'd made themselves in Ted's workshop in Stroud.
TJD make hand built steel and titanium one-off bikes. Everything is completely bespoke and Ted likes to ride with his customers, help them understand the best bike for their needs and then build them a MTB, road or BMX to suit. If you follow BMX, you might know TJD better as 'Super Ted' from countless video and magazine appearances.
You can read our interview with Ted James, the first of our Steel is Real Builders interviews, here.
The Ride Out
The day wasn't all about nerding out and engineering chat of course.
It was a chance for the riders to jump on some bikes and try them out for themselves. Riding bikes is all about fun, but it's great to sometimes pause for a minute and think about how you're bike feels and why it feels like that. Riding a steel bike is a great chance to do that and to help learn what you love about a bike and what might make you go a bit faster and have a bit more fun.
One of the highlights of the day was the Steel is Real group ride out – the guys got together on a whole host of steel bikes and lapped out some of the best trails at Pedalabikeaway.
BTR Fabrications
Burf and Tam from BTR Fabrications hand build big tough bikes from steel in their workshop in the West Country. They've got the monstrous BTR Ranger hardtail, designed for big gnarly riding and the brand new BTR Pinner, their new full suspension frame that we saw for the first time at Bespoked.
Amongst their fleet was (photo'd below) they're insanely cool, made in steel, Hack Bike Derby bike that Burf made for the HBD race last year. The event brought a load of frame builders together to create and race clunkers off road. He built it with MTB geometry so it was just about fun to ride off road whilst being within the rules of the event. I really, really want one.
Demon Frameworks
This absolute work of art was being shown off by Jon of Jon's Bike Repair in Southampton. Whilst it's probably the least burly bike we saw …it's easily the most special custom frame of the whole event.
The frame was built by Tom Warmerdam of Demon Frameworks and is a complete hand built, custom creation.  It has Reynolds 853 main tubes with a 4130 rear end. The headlug is made from stainless steel and apparently on its own took three full days to create. Tom apparently builds a full frame from stainless steel and then cuts out the main tubes to leave the lugs behind which he then shapes to give that distinctive style. The Reynolds tubes are then slotted in to the lugs to bring it all together.
The frame is copper plated and then lacquered to keep rust away and is, we're told, based around 2007 Orange Clockwork geometry.  Its hard to believe given how posh the bike is but its owner still rides it regularly round the New Forest and has no qualms about getting it filthy!
Nordest Cycles
Nordest might look and sound like they're from a cold country (or is that just me?) but they're actually from the hot, rocky north of Portugal.
They're a real new comer to the Steel Bikes game but have already made a beautiful and very up-for-trouble looking hardtail with their Bardina frame. Nordest's frames are available in Steel or Titanium.
Stooge Cycles
Stooge Cycles definitely get my 'weirdest of the bunch' award …But I love that. They make truly weird and wonderful bicycles that, despite their looks, are designed to go fast on rough ground without any suspension.
Stooge Cycles are designed by Andy (red shirt in the photos) who's aim is to use his 40 years of BMX riding to create bikes with slack angles, short stays and steel tubes. All inspired by the clunkers of Marin County and with a healthy, well meant "fuck you!" to the arms race of the modern bike industry.
Also. Frame mounted hip flask cage. Win.
Stif Cycles
Phew – thankfully it wasn't all weird, rigid bikes! Stif were on hand with the Morf hardtail as a slack, long, low and modern antidote to the weirder bikes on show!
What more can we say about the Stif Morf that we haven't already in our review? It's rad. You should ride one. They're well bastard fast as Stif say!
Trillion Cycles
Trillion are a really unique story in the world of steel bikes. They're hand built in the UK from British made Reynolds tubing and run by a very small team, from the Midlands. At the same time, they're owned by Liberty which is a billion pound, international mega company that owns most of Fort William, hundreds of steel smelting facilities and works on some crazily high tech projects.
Why does Liberty care about bikes? Well, funny story, their owner (a British born Indian entrepreneur) made much of his fortune from bicycles and is super passionate about breathing fresh life into British manufacturing and into making UK made bikes the envy of the World.
After a slightly slow start, Trillion have now bought well respected UK frame builders Shand Cycles who will hand build their frames for them up in Livingston, Scotland.
Trillion's Matt and Russ were proudly showing off their new Shand built Trillion Prime – a slack, long and low hardtail that's designed for going fast and having fun. We're excited to ride one.
Surly
There's just something about the Karate Monkey that looks so fun to me.
Proper mountain bike tyres, steel frame, ride-all-day-but-still-have-some-fun geometry all just make it look like the ultimate hack about, lunchtime ride, winter, go anywhere do anything bike. Utterly inefficient for off road riding compared to the modern mountain bike …but at the same time completely perfect. This one was Surly brand manager Duncan's, fresh back from the Ginduro race.
If you don't know, Surly are one of the original steel bike pioneers and are probably the biggest name of the Steel is Real bunch. They're from Minnesota and have been making bikes since the late 90's.
Onza bikes
Designed in Nottingham, manufactured in Asia. Onza are actually 25 years old and are one of the pioneers of trials mountain bikes.
Their new steel frames, the Payoff and Jackpot are, we're told, the start of their new chapter and a return to mountain biking. They're made from 4130 steel, designed for 140mm travel forks and available in 27.5″ and 29″.
Sanderson Cycles
Last but not least, Sanderson Cycles. British designed and built in Asia with beautiful British Reynolds 853 tubing.
Steel is Real – cheers!
Huge thanks to Ben and the Steel is Real crew ( that's Ben below) for making the day happen and for all of the steel bike brands and builders for coming together to celebrate good times on bikes.
If you want to follow Ben's group, you can find them on Facebook here.
---
---