MRP Ribbon Coil Review
Review by Ben Plenge / Photos by Jamie Edwards and Dave Price
[ezcol_1half]
For the last few years the MRP Ribbon Air fork has been steadily gaining fans, offering a viable alternative to the big hitters like Fox and Rock Shox.
Now, building on their successful air sprung platform, MRP realised that there was a demand for a coil fork for hard riding enduro and all mountain riders and released the Ribbon Coil.
[/ezcol_1half]
[ezcol_1half_end]
The MRP Ribbon Coil is available in 27.5 and 29 inch versions and each fork can be adjusted for different amounts of travel.
There's 150-170mm in the 27.5 fork and 140-160mm in the 29er version. I tested the 27.5 inch fork on my long term Merida 160 800 test bike, replacing the 170mm Rock Shox Yari that was specced on it.
[/ezcol_1half_end]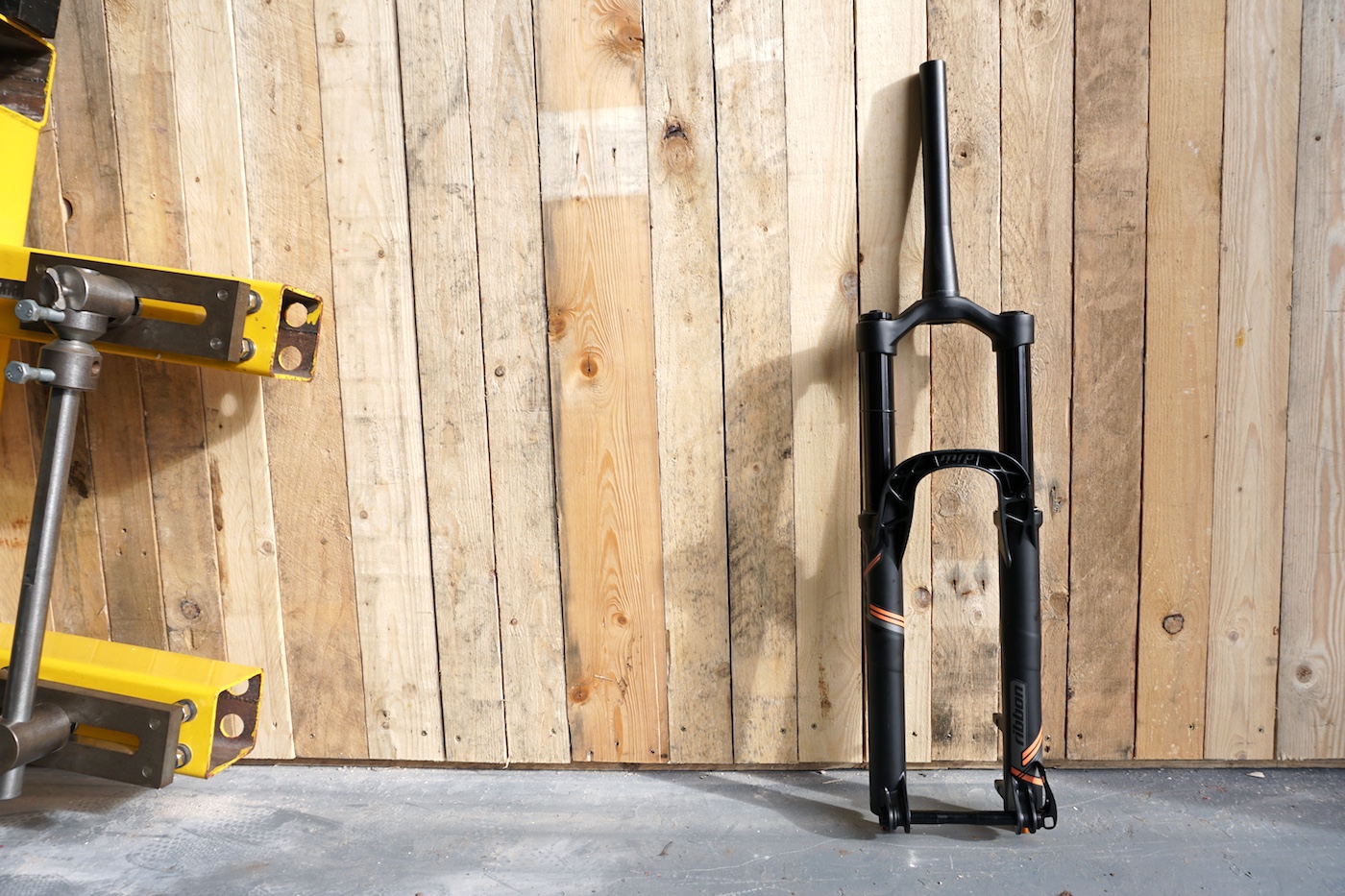 Why coil?
Older readers will no doubt remember the days of coil forks fondly.
A few years back a coil fork was the only real option for hardcore riding and offered a very supple, very plush but very heavy damper. As air suspension technology improved so did the popularity of the air fork and the poor old coil fell from grace.
MRP reckon though that coil is worth revisiting and have built a fork that has all the plushness of coil without those old-school weight penalties. In fact, the MRP Ribbon Coil's weight is just 4.6lbs for a 27.5″ version – pretty amazing compared to the 4.3lbs of an air sprung Fox 36 FIT GRIP or 4.4lbs of a RockShox Lyrik RCT3.
Tuning and set up
My first job on the MRP Coil was to alter the travel to fit my bike, upping it from 160mm to 170mm. The MRP website has really clear, concise videos to help you do this job at home and you don't need any funny tools, just a cassette tool, circlip pliers and some allen keys.
It took about 20 minutes in total and was very straight forward. Whilst I had the fork in pieces I could also have swapped out the spring, but based on MRP's recommendations I decided to run the medium weight spring that was already fitted.
The fork is supplied with 3 springs; soft, medium or firm, with an extra-soft and extra-firm options available aftermarket for £40 each.
You can work out the right spring for you here at MRP: https://www.mrpbike.com/ribbon-coil.

At about 85kg in my riding kit, I'm right at the bottom of the weight range for the medium spring. This meant I didn't need any preload and I only needed a few clicks of Ramp Control, keeping the main part of the travel linear and smooth with a bit of ramp up at the end. I prefer a faster fork so I only ran a couple of clicks of rebound.
Alongside being able to swap springs, there are a number of ways to tune the feel of the MRP Ribbin Coil.
You can adjust the low speed compression and rebound as you would on a normal fork. You also get a feature unique to MRP called 'Ramp Control' which is nob on the bottom of the fork leg that does the same job as those volume spacers on an air fork. More clicks makes the Ribbon ramp up towards the end of the travel, as if you were adding spacers. That adjustment is super important as coils are inherently linear in the way they move.
There's also is a preload adjustment bolt that can be used to slightly compress the spring and reduce the amount of sag and fine tune for rider weights. This comes fully wound out and I've had no reason to touch it.
Riding the Ribbon
My first ride on the Ribbon was a baptism of fire. I fitted it two days into a week of back country riding in the French Pyrenees for some seriously rocky, gnarly and steep trails with 20 minute, 1000m descents.
Initially, I felt a bit of stiction in the fork and it felt very similar to the Yari that I'd swapped it for. I was also finding that my Merida test bike felt a bit short and I was struggling to properly weight the front wheel. To fix this I swapped the 35mm stem for a 50mm stem – this made an immediate improvement to the ride of the bike and function of the fork and I felt I could get more weight onto the fork.
At this point the fork started to run smoothly on the whole, though still wasn't quite perfect and seemed to have a tiny bit of stiction early in the travel.
I am glad to say though that during the third day of riding, the Ribbon Coil totally freed up and for the first time I really experienced the quality ride of this amazing fork.
At this point my love affair with it began. From the high mountains of the Pyrenees, to the wet and nasty woods of the Golfie in the Tweed Valley it is just so composed and capable.
At the start of the travel it's incredibly supple, giving you endless grip and loads of confidence in the front end of the bike. As you go through to the middle part of the travel it remains active whilst still supporting your weight, helping you to stay in a solid riding position, and maintaining confidence and poise. Finally, when taking the big hits there is no harsh bottom out.
At the start of the travel it's incredibly supple, giving you endless grip and loads of confidence in the front end of the bike.
The Ramp Control adjustment does its job of controlling the final 25mm of travel so that it is useable when you really need it.
It's very forgiving on your hands and arms, meaning you get less fatigued and are less likely to get arm pump on long descents. It simply glides you over or through the rough stuff, separating you from the harsh hits and the vibrations, whilst still keeping you connected to what the front tyre is doing beneath you.
During riding I made occasional setup changes, adding a click or two of low speed compression here and there. For the steepest trails this helped the fork sit a little higher in its travel and preserve its head angle. It also helped on high-speed bike park trails where I wanted to push the bike a bit harder.
In terms of stiffness, I did not encounter any issues during my time on the Ribbon Coil, and it felt more than up to the job of supporting my 81kg plus riding kit, even on high speed bike park sections and super-tech steeps.
I f-ckin love this fork
As you can probably tell, after literally 100's of kilometers of abuse, I f-cking love this fork and really don't want to give it back.
That said, there are two things that might bother you about it (but didn't bother me).
First, it makes a squishy, squelchy "queef!" sound. It's only really noticeable on slower, rougher trails and when the fork is really working hard. It can be a little distracting but just served as a reminder that the fork is down there and working away.
Second, the supple nature of the coil makes it harder to lift the front wheel in some situations.
When you preload the bike there are times when the front almost seems to stick to the floor. This took a little getting used to but isn't now second nature and I just pull up a bit harder. The pay off of this is, of course, that amazing grip but if you prefer your fork very playful you may want to try an air fork or run more preload and ramp up.
Reliability
MRP recommend an oil bath change after 50 hours of riding. I've sailed far past this and the Ribbon Coil has proved to be smooth and reliable, only just hinting at needed any servicing work.
Having stripped the fork I can promise you that an oil and seal change on the MRP are both easily done and don't need any specialist tools or massive costs.
What do we think?
Quite simply, I think this fork is the nuts. It has helped me to ride and race faster than I did without it.
The MRP Ribbon Coil gives me loads of confidence in the front wheel, maintaining a strong, poised riding position and being ready for anything the trail can spit at me.
If you're looking to upgrade your fork or build up a long travel bike from scratch, this latest offering from MRP is well worth a look.
Love it
Straight forward to setup, adjust and maintain
Impressive weight vs similar air sprung forks
Very confidence inspiring, smooth and plush on rough terrain
Could do better
Takes a bit more muscle to get off the ground
Makes some funny noises on certain terrain
That brace is an acquired taste
---