As used by Team Wideopenmag
What's a bike without wheels? Team Wideopenmag has been rolling on Stans NoTubes Flow Mk3 Wheelsets all year, featuring scores of podiums, a Megavalance win and (almost) a national series overall win. It's time to look at how they performed.
The Stans NoTubes Flow Mk3 wheelset is available in a host of options to suit all frames, forks and freehubs. Claimed to have the "most secure tubeless setup in the business", the 6069 alloy rims also feature a 29mm internal width with a low profile to prevent pinch flats.
The Neo hubs feature a six pawl design with five-degrees of engagement for faster acceleration and stainless steel triple-row bearings to help keep the elements out and reduce the effects of lateral flex.
Laced together with 32 non-proprietary Sapim Force Black J-bend spokes and nipples, the Flow Mk3's wouldn't be complete without Stans' famous off-yellow rim tape and tubeless valves, which are installed and ready out of the box.
On The Trails
To get an idea of how these wheels perform, we went straight to our race team who have been putting them through their paces for the past six months.
Sure, our team is sponsored by Stans NoTubes, but the aim of this article – and the others that will follow – is to look at the strengths and weaknesses of a selection of parts our team has been rallying at the races in 2019.
Our hope is that their feedback, warts and all, will help you determine if the Flow Mk3's are the right wheels for you, or not.
For elite enduro racer Chris Hutchens, who's been between the race tape since he was 11 with over 200 races to his credit, he's been running a set of Flow Mk3s in his Nukeproof Mega C since January.
Opting for 27.5in wheels (for the time being), although he thinks his "style might suit a 29er better", Hutch has been giving his Flow Mk3s some stick at home and abroad all season and so far, has remained on a stock setup with only one mechanical.
"On the last stage of the Canazei [Italy] EWS, one of my spokes snapped and the nipple managed to dislodge the rim tape just enough to create an air leak" attests Hutch. While a leaky soon-to-be deflated rear wheel is far from ideal, it's especially bad on a 6km stage in a foreign country.
The rim was soon out of true, "but still rideable, albeit with a tube in," he says. This isn't Hutch's first foray on Stans' rims and reckons they've "got to be one of the top alloy rims on the market."
Aside from that one race, the only other issue he's had to deal with is a bit of water ingress in the rear hub, but we're talking countless hours of saddle time and 10 races, some of which were far from dusty.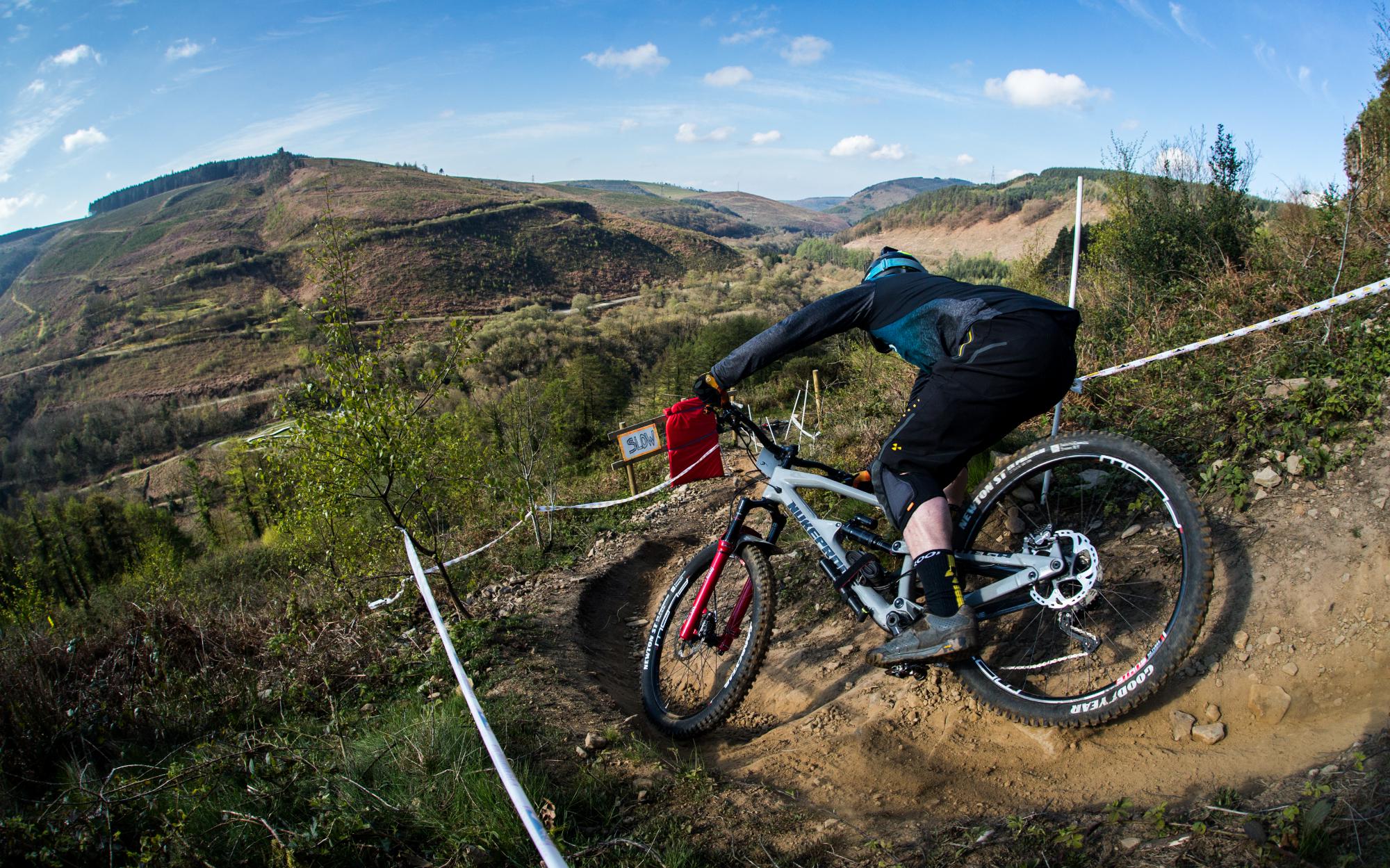 Fellow enduro racer and 2019 Tweed Love champion, Christo Gallagher, has been happy all year on his Flow Mk3s too, albeit in 29in and is so far enjoying both their flex and compliance.
Like his enduro team mate, he also hasn't touched the spoke tension and has also only has one mechanical, which similarly didn't right the rim off.
While a dented rim is a bitter pill to swallow, chucking an inner tube in will get most through the day and allow you to complete a ride or race. While the latter of which is vitally important for enduro racers, it is less so for our duo of young up-and-coming downhill racers, Dan Copeland and Connor Smith.
Putting everything on the line for that one run, they too have been running Flow Mk3s this season. While Dan had to tighten his spokes for the Rookies World Champs in Serfaus-Fiss-Ladis, Austria, to get a desired ride feel, Dan has so far resisted the temptation.
"They feel stiff pretty in flowy portions of trail and there's an element of give when you're hitting berms and g-outs… but you're not getting bounced around, that's for sure" affirms Connor.
Dan reckons "they're pretty solid…if a bit soft" which may sound contradictory, but wheels need to balance strength and flex to prevent a wooden ride feel. Mechanic Dru has only changed two rims all season; one rear which Dan destroyed at the Bala National and one front courtesy of Connor misjudging a big gap.
Room For Improvement
Speaking to team mechanic, James 'Dru' Fowler, he spotted one glaring, if easy to remedy issue when building the team's Pulse DH bikes. "The front hubs were the wrong spacing for the new 110mm DH specific Boost spacing, so I had to space the rotors 10mm off of the hub" confirms Dru.
While a few of the team have had to service their hubs and replace some bearings, Dru believes that it could be down to "bike washing behaviours rather than the quality of the bearings."
With an internal width of 29mm, downhill racer Dan thinks they could be a bit wider, but other than that, the team have been on the whole extremely positive about the Flow Mk3 wheels.
The 110mm DH Boost spacing, which was thin on the ground in January, is now readily available and as Dru explains, when it comes to servicing the hubs; "Stans' hubs are a piece of cake to pull apart. No cone nuts, just push on end caps. Easy!"
Conclusion
With feedback from four different racers competing in two very different disciplines, are the Stans NoTubes Flow Mk3s for you?
While all four have wrecked at least one rim each, we're talking about four riders who are fast enough to be sponsored and are not leaving anything behind when they leave the start gate. Sure, Hutch's experience in Canazei was less than desirable and Italy is a long way to go to get a mechanical, but that's racing.
Overall the experiences from our team are mirrored by those whose race runs have played out live on Red Bull TV and backed up by a plethora of reviews across the web. While they lack a bit in the "cool factor" against other pricier options on the market, their performance (where it counts) alongside an undisputed race pedigree, only shows their intentions.
If getting to the races and maximising saddle time is a bigger priority than the a set of flashy wheels with anodised hubs, the NoTubes Stans Mk3s could be just the ticket.
Check out everything to do with Stans wheels on their website here.
Read how Team Wideopenmag got on with their Goodyear Newton ST tyres here.
---