Ben has pitted the Deity T-Mac and Crank Brothers Stamp flat pedals against each other to see which of these £130 units come out on top.
Let's start by appreciating that £130 is a load of cash to spend on pedals when there are really decent pedals with good shape and grip for a quarter of the price.
What do these premium pedals offer and are they worth the cash? Ben found out…
Deity T-Mac key features:
6061 T6 aluminum
110mm x 105mm footprint
Dual sided pins with pre-applied Loctite
Includes extra set of pins
Load distribution system to prevent bearing blowout
Multi micro sealed bearings and Deity DU Bushing internals
Heat treated Cr-Mo Spindle
Available in 8 colours
409 grams per pair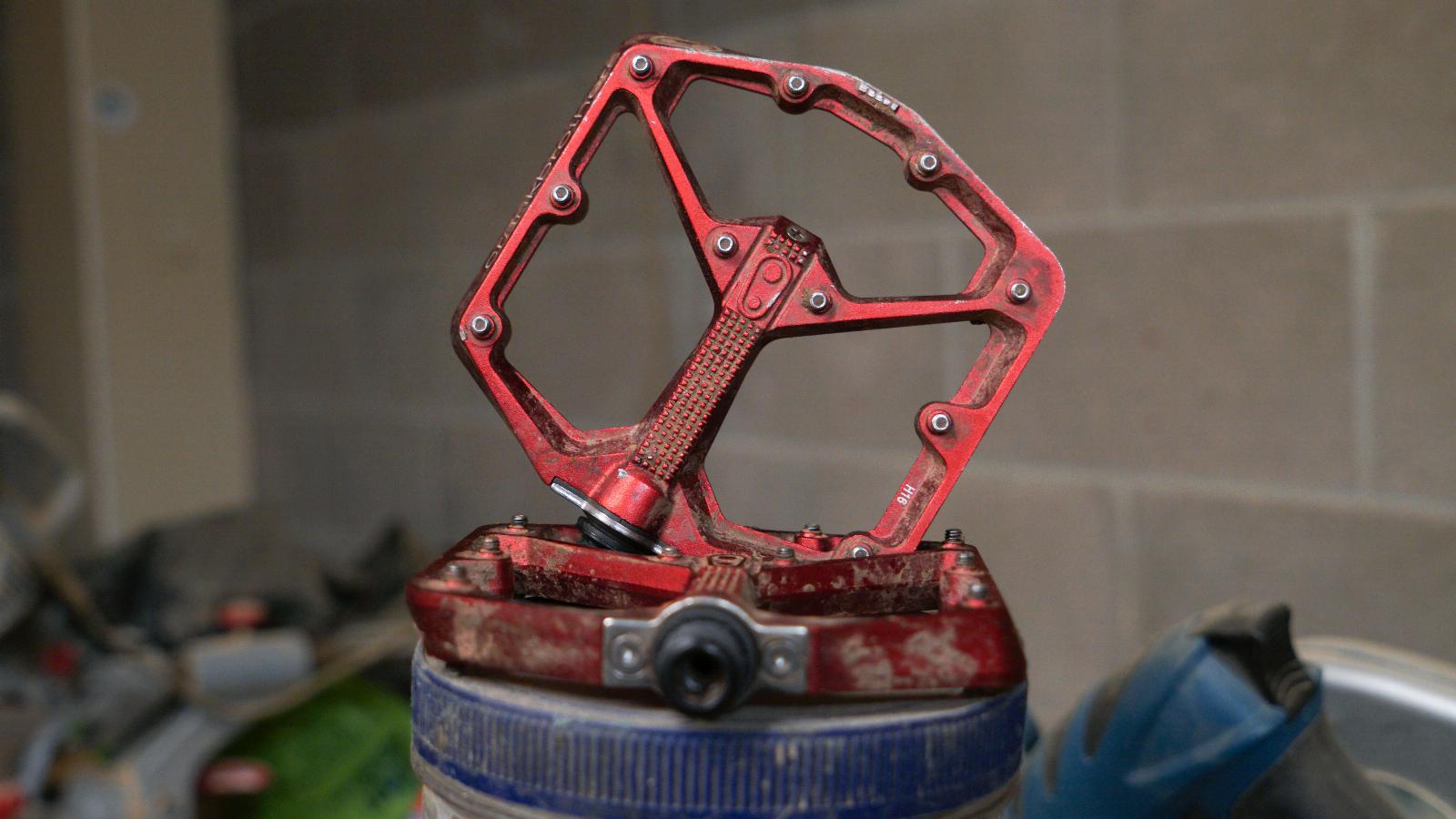 Crank Brothers Stamp 7 Large key features:
10 adjustable pins
6061-T6 aluminum body
114mm x 111mm footprint
Igus LL-glide bearings
Forged scm 435 chromoly steel axle
5 year warranty
375g per pair
The Deity T-Mac is the signature pedal of freeride star Tyler McCaul, designed without compromise for big, gnarly lines and hard riding. It has a large 105 x 110mm platform with 14 long, aggressive pins that give you tonnes of grip. It is not the thinnest pedal out there but it does have a 2.5mm concave profile which also helps to make you feel connected to your bike. It weighed in at 414g for the pair on our scales.
The Stamp 7 is Crank Brothers' top of the line flat pedal, available in small or large for different foot sizes. Featuring a massive 114 x 111mm platform (large tested) it is visibly bigger than the Deity T-Mac as well as being a little bit thinner. It features 10 medium length pins for grip and a very slight concave shape that you have to squint at to appreciate. The Stamps weigh in at 375g on our scales, 44g lighter than the Deitys.
Grip
Without doubt the T-Mac makes you feel like you are stuck to the pedals. The pins tenaciously grab at your rubber soles and the concave shape helps to lock you in position. You never feel like you will blow a foot off or slip a pedal with them on your bike. The downside of course, is that it is tricky to make small adjustments to foot position.
The Stamps have significantly less grip and generally feel less secure. The pins are shorter and the pedal body is almost totally flat and this means less grip. Crank Bothers do offer an aftermarket pin kit for £11.99 with longer pins, but this pushes the total spend over £140! If you wear skate shoes or want flat pedals for hitting the jumps then the Mallets are the better option as they allow more movement on the pedal, but for tech terrain, riding and racing DH or Enduro the T-Mac is a clear winner.
Servicing and Quality
Both pedals have done plenty of hard riding on a variety of bikes, including plentiful rock strikes, mud, rain, and the occasional jet wash. Both have held up very well and neither shows sign of bearing wear or any significant damage. They both feel solid and well made and should last a long time. The Stamp 7 also has a grease port for easy maintenance which should keep them spinning for may winters to come.
What do we think?
Both sets of pedals are undeniably high quality and both perform well on the trails, just in different ways. The Deity T-Mac has way more grip and a better feel to them whilst the Stamp 7 has more freedom to move about, a larger platform and lighter weight. For me and the riding I do most of the time, I would run the Deity T-Mac on my bike.
You can check out the Deity T-Mac pedals on their website here.
For more on the Crank Brothers Stamp pedals, head here.
---