Second in a series of comprehensive guides to some of Europe's best riding resorts, MTB Beds brings you the ultimate guide to Finale Ligure.
The Italian resort of Finale Ligure is one of the best coastal riding spots in Europe, and the guys at MTB Beds have brought you this no nonsense, comprehensive guide to getting the most out of your stay there.
You can check out what MTB Beds can offer you on their website here.
Where is Finale Ligure?
Finale Ligure is on the stunning Ligurian coast, around 1 hour from Genoa and 2 hours from central Nice. It's location and size make it the perfect mix of a tourist hub with that quaint individual character you crave on any kind of holiday. With sandy Mediterranean beaches, a vibrant eating and drinking culture amongst cobbled streets and Roman architecture, Finale Ligure is a holiday in itself even without the bike.
With a permanent population of around 12,000 it has all the amenities a decent sized town should and despite the constant Italian hum of a Vespa engine it's generally a quiet place. In the famous square you'll often see an old Milanese couple, suited and booted and sipping martinis, quite comfortable with the group of 6 English lads drinking a beer after a day riding the amazing trail network, while kids run around, play on balance bike and much gelato in the large piazza the bars surround.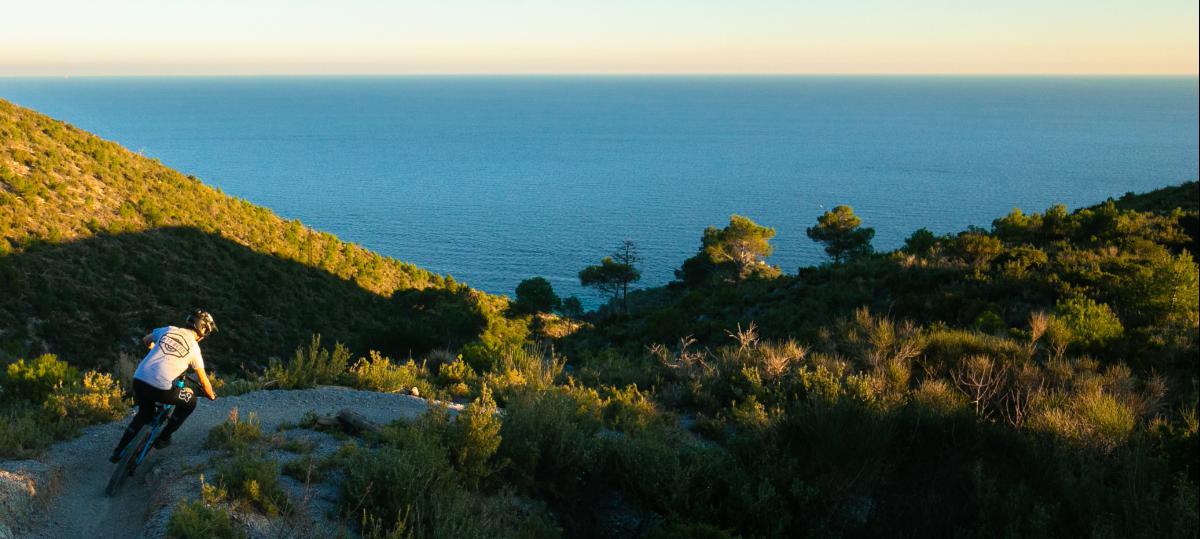 How to get there?
Flying is the quickest option if you are travelling from the UK. If you crossed into Europe at Calais, you are looking at 15 hours in the car and pretty high toll costs. The main airport that services Finale Ligure is actually in France, Nice, which is around 1 hour 45 minutes from Finale Ligure. Though flights to Genoa are available, the airport options from the UK are limited and it can be trickier to get yourself and bike to Finale.
Driving does work if you have a few mates who are willing to share the journey and you've worked out that the costs involved make it viable. Depending on the size of your vehicle you can bring more equipment, and are less constrictive with time. It does take a lot longer though and unless there is more than 4 of you flying will probably end up cheaper.
Plane
Costs – £150 – £300 return per person (As of 2019, not including your transfer)
Flying from the UK to Nice is straightforward, though there may not be flights from smaller airports you should be able to find an Easyjet or British Airways flight on most days from any major UK airport. Genoa being a little more tricky as you'll find limited flights from Manchester, Bristol and London.
Getting yourself to Finale Ligure can be tricky. Your first option is a taxi directly from the airport, though this will work out very expensive and they will likely not be able to take your bike. From Nice you can take the train to Finale Ligure, there's usually 1 change at Ventimiglia and it takes around 4 hours. The train station is a five minute walk from the airport. This costs around €20 each way.
You can also book a door to door direct transfer through MTB Beds, who will be able to arrange return travel from Nice airport for you and your bike, with someone to meet you at the airport from as little as £45 per person (Based on 7 pax on a return trip), this takes around 2.5 – 3 hours from landing with a 1hr 45 minute drive to Finale Ligure.
Costs are the key when flying, with many airlines now enforcing a charge on bike bags it can be hard to find a good price. Easy jet charge £45 each way for flying with a bike bag (see charges page). Airlines such as Swiss Air or BA do offer bikes as part of your luggage allowance so you could save some beer money here.
Drive
Costs – £550 – £650 total return (As of Summer 2019)
Dover / Calais crossing return
£125 – DFDS Ferries / £190 – Eurotunnel (Standard Car)
£205 – DFDS Ferries / £194 – Eurotunnel (Van)
Depending on how far you have travelled in the UK, the Ferry can be a welcomed rest to split the journey up however it does take about 3 hours with loading and unloading times at each end. This compared with an hour on the train does add a chunk onto your journey.
Once across the pond, it's 1224 kilometers (760 miles) from Calais to Finale Ligure via the Mont Blanc tunnel. You can't go wrong with the French motorways, the toll cost is €125 in total each way but presents you with clear motorways nearly the whole way down. The tunnel at Chamonix will be €56 return. So around £155 return.
According to the AA fuel calculator (as of August 2019) going on a £1.40 per litre fuel cost, your total journey would cost £280 return, roughly 6p a mile. This would bring your total costs of driving from Calais to Finale Ligure to around £600 return depending on how savvy you are booking the best crossing.
Pro Tip: If you book two single day return tickets for the Tunnel it works out cheaper than a standard return, you can be penalised for not using the return leg of each ticket.
Trails
Finale Ligure boasts a huge network of trails. With over 120 on the official map with new ones popping up every year it's a treasure trove for enduro mountain biking. Based around 9 riding zones the variety on offer is incredible. Many people think the riding in Finale Ligure is something like you'd find in Spain, arid and rocky, with the ocean constantly in view and minimal tree coverage. This is true in two of the riding zones, Spotorno and Le Manie, the latter of which is where you'll find the infamous Men's DH trail used in all but 1 of the Enduro World Series stops to Finale Ligure to finish the season. The majority of the riding is tucked behind Finale Ligure itself and in the dense and vast Ligurian forest areas, breaking cover every so often to give you a glimpse of the Alps behind you or the Mediterranean in front.
San Bernadino
Nestled directly behind and amongst the town of Finale Ligure lies the suburb that gives this riding zone it's name. Normally not an area you would shuttle due to the tight roads leading up to it, it's an easy 20 minute pedal from the seafront to the first trail you'd come across, Dolmen. Used in the Enduro World Series in 2017, it's one of the faster trails in this area you'll still find the tight and awkward rock sections that take most people several attempts to negotiate with confidence.
There is only around 250m elevation so each trail will involve some leg work to keep the wheels turning. The zone drops onto the road behind Finalborgo or into the suburb of Calvisio, both metres from the nearest watering hole.
Pro Tip: Easy to self shuttle on arrival, this is a great area to get yourself into Finale Ligure mode. It's unique terrain here though so don't take this as gospel as to the rest of the Finale riding experience.
Dolmen
One of the fastest trails in San Bernadino and also one of the oldest and the first trail you'll come across if you pedal up from Finale Ligure. Starting with a long flat sprint it's not long till the trail points down, no rest however as this trail is packed with rock sections that require complete attention and solid line choice to ensure your rims stay round and ou keep momentum. With a slow and technical mid section, a short climb (something you'll find in all San Bernadino trails) and a flat out loose rocky chute to finish this trail is a Finale Ligure classic.
Ruggetta
There's 3 versions of this trail, that all cross an amazing cave system dating back centuries. The pick of the trails is the one used for the 2019 Trophy of Nations. Classic Finale Ligure rocky flow as you pump and twist your way through the opening section, full of pedal snagging rock with soft dirt in between. The middle section takes you through the caves, some effort is required to keep the pace up, get on the gas. Finishing with a fast singletrack opening out with views over Finale Ligure, you'll need your wits about you to avoid falling off the track into an olive grove running alongside the trail.
Feglino
A zone nestled around the motorway that runs across the coast, Feglino is a hub for riders in Finale Ligure. Scaletta is an old school hangout cafe for mountain bikers and old school card-playing Italian Grandads, it's a pretty cool place to people watch as you munch on one of the amazing bespoke sandwiches they'll make for you, to order.
The motorway bridge is also a prime meeting point for shuttle companies, as not only the trails of Feglino but those descending from the NATO Base also find their way here. The trails themselves are almost exclusively built and managed by Ivo, a local legend in the mountain bike scene.
Cromagnon
Like trials? Yes we said trials, then this is this is trail for you. Part fun and part awkward tech, this is the mountain biking equivalent of golf, rewarding when you get it right but oh so frustrating until you do. All about bike positioning, momentum and flowing through sections that undulate with as much speed as possible. A media darling, the rock opening, carved out by hand is the spot for many of Finale's most famous photographs. Used as an Enduro World Series trail in 2016.
Little Champery
A perennial favourite to all that ride in Finale. Little Champery takes after it's namesake in the Swiss Alps with it's steep, twisting turns in the upper section. Fast and wild from top to bottom, it's an absolute hoot to ride with a good crew. There's plenty of choice with high and low lines into most corners, though support in the turns themselves is minimal so you'll need to rely on that sandy dirt to maintain grip.
Pino Morto
Short but very sweet, Pino Morto is a trail that encapsulates the Finale Ligure rocky, flowy paradox. If you were to stop and look at some of the sections on this trail you'd be amazed at riders who wouldn't even consider riding this kind of thing in back home, yet here in Finale they say, "quite smooth!" Looks can be deceiving!
Pick the right line and you'll find the rock gardens flowing with speed and ease. The middle sections has a few little jumps, a treat for Finale Ligure, one of which is a hip which Nikki Whiles shut down for everyone else while shooting with MTB Beds in in 2018, check the photo, you'll see.
Pro Tip: This is where to come for short laps, the hill is a steep climb but over very quickly whether by pedal or uplift. If it rains these trails do run well but respect the closed signs when they are up, Ivo the trail builder is only one man. Also, Scaletta panino (sandwich), trust us…
NATO Base
The best known and most heavily ridden area of all Finale Ligure's riding zones, NATO Base / Base NATO is perhaps where Finale Ligure announced itself as a riding destination. A real abandoned military base, it's ever changing graffiti is the back drop to nearly every holiday snap or bike check taken in the area, it's a pretty cool spot to visit. There are four trails running from the base itself, with several more long epics accessed from the short climb behind the base.

Base Trail
The go to trail in Finale Ligure, other than Roller Coaster which is arguably the most ridden, Base Trail is universally loved by everyone that rides it. Fast and flowy from the off, ducking and diving through trees, one of Finale's rare jumps and mild (for Finale) rock gardens. There's plenty of choice for those looking to play around, with side hits and gaps to launch for those looking to turn up the heat.

The original NATO Base trail, it's name taken from the helicopter pad it starts from and hardly recognisable from it's beginnings in the early 2000's now. Absolutely flat out the majority of the way down, rough and gnarly yet still maintaining flow. This trail was almost completely destroyed in Autumn 2020 after savage storms ripped through Liguria, reconstruction is underway ready for Spring 2020 and it promises to be a welcome upgrade while keeping it's foundations.
Ingenere
Although this doesn't start from NATO it's accessed with a liaison trail from the base. Used in the Enduro World Series in 2015, this is an absolute hoot to ride and easily one of the best trails in Finale Ligure. It's only the middle section that is actually Ingenere, the bottom joins up with another epic and long beauty, Crestino and the top is named Cravarezza.
This trail has it all, it's going to take around 12 minutes to ride at flat out race pace without stopping and includes twisting forest, flat out chutes, rock gardens and gullies, it's the complete enduro trail and encapsulates the essence of Finale Ligure perfectly. If you see a dodgy looking gap near the start, yes it's been done and yes it's very sketchy.
Pro Tip: Some of the best days you'll have in Finale are not shuttle days. NATO Base is a drop off location for the single uplift service, and a great place to build a days riding around with some pedal laps.
Out Back
Nearly all accessed from the drop off point of NATO Base, there are several long trails that require a fair amount of pedalling to access but a worth the effort. Dropping you into the Feglino valley, Mallare and all the way to Le Manie, it's best to know where you are going before you hit these up.
Rocche Gianche
A part of the Enduro World Series on two occasions, this is easily one of the most challenging trails in Finale Ligure. With epic views that are easy to distract you from the technical rock sections found on the first 400m, be safe, you're a helicopter from help up here!
Super Groppo
A long old epic of a trail, first used in the EWS in 2013, it's for the most part quite easy, with some rocky sections and a few climbs, with loads of flow in between. It's difficult to piece together as some parts do split and require some thought to connect. Listen to your guide.
Melogno
Shared with NATO Base as one of the drop off points for the single uplift service, Melogno, also known as Din after the cafe that sits across from the car park. It's the starting point for all those looking to ride Roller Coaster, one of the most famous trails in Europe. Technically, the trails here actually lie in the jurisdiction of Pietra Ligure. The coffee in the Din Cafe is good, strong and on a sunny day it's fine place to sit and soak up the ambience.
Roller Coaster
Everyone needs to ride Roller Coaster. It's one that guides both love and resent in equal measure. There's no denying it's a sick trail but it's easily Finale's most ridden. Completely refurbished top to bottom for the Trophy of Nations in 2019, it's fast, physical and fun from start to finish. At 12 minutes for Richie Rude in 2019, at Richie Rude race pace, she's long.
It's the trail we see the most mechanicals on and unfortunately many injuries because of how much fun riders have, there's plenty to catch you out between tight trees, compressions and rocks, you need to be on it the whole way down, the ground in Finale is hard. It's a feeder trail as well, so you'll ride this to get to Rebel Yell and the top section of Cacciatore and Poste.
Fast & Furious
A personal favourite of the author of this article. One of the best trails in world if ridden top to bottom, which will take you around 15 minutes at a good pace. Found on the climb toward of Monte Carmo and Pietra Ligure, it criss-crosses a ridgeline into the tiny hamlet of Isallo. It's varied, technical, fast, flowing and physical, it's miles from anything so bring spares.
The trail has been the victim of logging for the last two years but now the lumber jacks have finished their work the Pietra Ligure trail crew are working to get this legend back online for 2020.
Rebel Yell / Ale Ale
Steep, tight, technical, long, flowing, rocky. Another of those trails that drops though so much woodland it changes terrain multiple times from top to bottom. It's definitely one of the most demanding trails in the area and is not for everyone. To give you a vibe, if you ride the Golfie and Innerleithen in Scotland you'll dig it. It's like that but dry, with added rock and less ruts. Plenty of drops, hairpins and sniper rocks keep things interesting the whole way down.
Madonna della Guardia
A beautiful old church sits on the midway point of the hillside that leads to Melogno, the church is one of the finest places to sit and take in the views, though low down it's close enough to the Mediterranean that you see the sparkle of the water on sunny days, peaceful.
What is not peaceful is the riding that starts from here. Kill Bill 1 & 2, Madonna, Cavatappi and the lower section of Cacciatore are all found in this zone. Every one of these trails are amazing, but very technical and challenging to ride, fast and often steep. They have ended many a holiday, lucky there is a permanent First Aid station in the town of Calice where each of the trails finish.
Pro Tip: If your riding group is gnarly, ride here, they'll love it, there is no easy way down from the church. Best to avoid if you are not confident, or tired
Madonna
This is as close to a downhill bike track that you'll find here. It's one of the few in Finale Ligure where you really could miss having one, It's flat out and quite frankly scary at speed. Drops, depressions, gullies and rock gardens, including the mothership rock garden at the end that everyone has to take an obligatory stop, look and video of for Instagram before completing Finale.
Cacciatore
'The Hunter'. This trail was reworked and brushed up to new for the 2019 Trophy of Nations. It's fast again and fairly steep in places, with plenty to keep any rider on their toes in between the tight trees. Universally enjoyed by every EWS athlete that rode it, it's no surprise that on this twisty gravity fed track Sam Hill smoked the field, except Richie. Be careful at the exit, the last rock section where you can see the end of the trail is notoriously slippy and has caused many an embarrassing moment.
Kill Bill 1 & 2
Similar in style to each other and running parallel, the Kill Bills have as many twists and turns as the movies. Though challenging they are good fun to ride, nowhere near as scary as the trails that they lead into, Madonna and Cacciatore. There are a few blind hucks in both runs that though look very tempting, should definitely be looked at before being leapt.
Pro Tip: The town of Calice where these trails finish has a couple of great restaurants Piccolo and Trattoria Affittacamere Piemontese (better known as Viola). The argument still rages over whether or not the Calice gelateria is in fact the best in the area.
Le Manie
Let's cut to the chase. Every single marketing campaign, race write up and holiday snap has photos from Le Manie, and for good reason, it's stunning. Trails that finish literally next to the sea in the beautiful town of Varigotti, it's the reason most riders come to Finale Ligure thinking the riding is out on the open, sandy red dirt that's so famous from this zone. But, and it's a big one, the trails aren't that good, unless kitty litter gravel, reef like rocks and a maze of line choice is your bag. That's not to say don't ride them, they are must do's on any Finale visit, but they present significant challenges.
Men's DH
A bucket list trail. The most photographed trail in the world we reckon. Up there with A-Line for the amount of times you've seen it. Don't forget the GoPro. The way the pros handle this on a race run is something to behold, though it's important to remember the trail is taped for them, so there is no debate on where to go and it's given it's annual sweep of the loose rocks in the week before the Enduro World Series shows up.
The top of the trail is actually a long way back into the hillside and generally not ridden by the bike tourist as it's a simple fireroad. The middle is a lovely, flowing coastal singletrack that belies the carnage of the rock garden in the final section. A tip, find a line, stay on it, don't fight it. The bushes aren't as soft as you think.
Pro Tip: Women's DH is an alternate line to Men's DH and generally easier to navigate though still presenting challenges.
Pietra Ligure
Finale Ligure's Neighbour, Pietra Ligure is larger, a little more less touristic than Finale. The riding here was initially just for locals, then trails were created for e-bikes, and now for everyone. It's quieter over this way, as you cannot shuttle the trails without a 4×4 and permission to drive in the woods. To ride under pedal power is open to anyone however and the work is worth it. You can also access the trails from Melogno and heading toward Monte Carmo, the trails are all found in forest below the mountain.
Oltre Finale
Starting under the watchful eye of Monte Carmo in a beautiful clearing, it's long, flowy and fairly easy to navigate. It's magazine write up style single track for the most part, flowing, smooth with arching hero corners that make you feel a million dollars. The end has some steep switchback turns that do really test your skill set.
Hiroshima Mon Amore
A hero trail that just gets better and better until the end that you just don't want to stop. It begins unassumingly, but the twists and turns that feel very natural and fluid just getting faster and faster. It's an odd trail in that it has very little vertical drop but you never have to pedal, provided you can hold speed. Ducking and diving through the woods hooting with joy is a pretty standard way to ride Hiroshima.
Pro Tip: Only a handful of companies can shuttle here, but anyone can ride. Pedalling with an e-bike or under your own steam
Mallare
If you want to know what Italy is like without tourism head to Mallare. It's pretty cool in this valley behind Finale Ligure, quiet and quaint. The trails were put in here to increase foot fall in the town. Believe it or not a van of mountain bikers stopping for a coffee and lunch in town makes all the difference to this small local economy. The trails are really good and worth the detour.
Carbonera
A personal favourite of the author, steep, fast and full of turns both flat and in gullies. With a rock garden in the middle of the trail that catches you off guard every single time, as you come into it too quick after all the fun you've been having above. The water splash at the end completes the so enduro feeling.
Black Mamba
Found halfway down the Il Bucchion trail, Black Mamba was new for 2019. It's not fast, it's very technical though with turns top to bottom, many of them off-camber. It's one of those trails that is easy to ride slow and hard to ride quick. Very rewarding and long due to all that weaving between trees. It brings you out just outside of the town, a short 5 minute pedal back to Mallare.
Best time of year to ride?
Spring Positives
The weather. It is less predictable than Autumn but rarely problematic. You won't see an early onset of winter and there won't be Autumn leaves on the trails.
The trail conditions. Usually in very good condition, most of the trail work happens in winter when the ground is not too dry and the temperature not too hot!
The town. Finale Ligure hibernates in winter, it's awoken in May you can feel the excitement amongst the locals with the return of the sun.
The escape. It's likely your first chance to get away from home and go ride somewhere warmer.
The beach. It's quiet, tourist season does not kick in until June, you won't have to pay for a deckchair or watch the budgie smugglers failing to do their job in May.
Spring Negatives
The sea. It is still cold, until mid May when it just tips in favour of board shorts and bikinis.
The weather. It is unpredictable, rain showers are more common, though they are usually light and short.
Easter. The Easter weekend is incredibly busy. It's worth avoiding or booking with a company that can take you away from the main drag.
Autumn Positives
The Weather. Often Finale Ligure experiences Indian Summers long into October, around daylight savings is when the Autumn temperature arrive.
The sea. It's still warm, until around mid October when you start to feel the pinch of winter down below.
The riding. It's usually an extended summer, dusty and warm, all the trails are open after winter maintenance which can roll into Spring if there is alot to do.
The Enduro World Series. The bookend of the year for every team, it's a great race and a great party. With the success of the Trophy of Nations in 2019 we see Finale Ligure on the calendar for some years to come.
The town. Still buzzing until mid October, if you like the idea of a town with a bit more buzz than usual, Autumn is great as all the bars have a great ambience.
Autumn Negatives
The Leaves. By the end of October lesser ridden trails can be tricky to navigate due to the amount of leaves on the ground.
The weather. In recent years there have been severe storms at the end of October, they have caused major damage to the area, we hope this is not a trend.
The Enduro World Series. The EWS rolling into town can mean trail closures in the week before the race and during the race itself, if you don't care about the event check your calendar to avoid disappointment.
Summer & Winter
Summer is generally too hot to ride. Many uplift companies take time off, pedalling takes too much out of you and the accommodations and restaurants are very busy. Best avoided in July and August.
Winter can be incredible. Despite the early dark the riding can be great if you get the weather right. It'll be cold, and often there will be snow and frost up high. Often however it is as cold and wet as the UK.
Accommodation
MTB Beds
Established in 2012 MTB Beds has grown to become the leading provider of Mountain bike holidays across Europe. The Riders Week package has become synonymous with great hospitality, great food and great fun, it's a hassle free mountain bike holiday. The first package in Finale Ligure launched in 2016 and is the bench mark for those wanting to see Finale Ligure's best riding.
The packages on offer from MTB Beds in the region now include a bespoke, custom tour led by the expertise of local guides and our own knowledge in an amazing beachfront apartment, as well as tours of the back country and a Trans-Ligurian epic launching by Autumn 2020.
Riders Weeks package – Catered
The Riders Week package is the definition of a mountain bike holiday. The important part of any holiday is in the name, a break from a busy life and time to relax. From booking advice, getting you picked up from the airport, uplifts covered, a mechanic on site and staff on hand to answer any questions and deal with any issue, to stunning food cooked by a professional chef.
MTB Beds removes all the stresses & strains that can surround a holiday allowing you to concentrate on the important part, riding. With prices from £799 per person for 2020 with your flights on top this is a great value option.
Other additions to the package include Peaty's bike wash area, Day Trip service, Five Ten, DMR and Fox demo centre as well as a shiny fleet of Transition hire bikes and hook ups with Yellow Jersey Insurance for piece of mind. If it's your first time in Finale Ligure the MTB Beds staff and their partners in the area Ride On Noli and Back Country Finale are well versed in the best trails to ride depending on preference and ability.
Self Catered
Launching in Autumn 2020, MTB Beds will be running a tour program from a central Finale Ligure apartment, which is the closest accommodation to the beach in town. Apartment Al Tre Palme is a 7 person accommodation and the base for exploring Finale Ligure and the surrounding zones such as Mallare, Pietra Ligure and Nava with the local guides to make it a once in a lifetime trip.
Offered on a semi catered basis, there will be MTB Beds staff on hand to set your day off right with breakfast, then tidy up and leave you to the bright lights of Finale ligure in the evening, with the famous square and many great restaurants metres away, it's a unique and cool way to spend a week in Finale Ligure.
Hotels
Focusing on beach front or very near to beach front hotel accommodation that also provide bike storage, there are some excellent options for all budgets in Finale Ligure.
San Pietro Palace
A stunning 4 star hotel on the main beach front, it's welcoming and grand. All rooms have sea views and feel bright spacious and generously equipped. It's the base for many launch events for mountain bike teams and one of the go to's if you want to impress. Hands down winner for couples on a break. It's around the corner from the famous square and is equipped with a secure bike room and workshop. The breakfast is locally sourced and delicious, with a solid restaurant on the ground floor.
Medusa
Found less than 100 metres from Finale Ligure's epicentre, the main square, Medusa is a comfortable no fuss offering that comes with all the mountain bikers needs covered, a spacious bike room and courtyard workshop area, that includes a hot tub so you can laugh at your mates trying to change a tyre in style. Most rooms face the sea and the breakfast rooms balcony is a great place to start the day. There's a kids room downstairs, this is a good place to stay for families in Finale Ligure.
San Valentino
In a super savvy location that backs onto the MTB Beds Villa Arcelli, San Valentino is an apartment hotel, with studio, 1 and 2 bed apartments available for stays from up to 1 night. Each is well equipped with a small kitchen and double or bunk beds, it's got everything you need for a quick break and is ideal for extending your stay before or after a Riders Week in Villa Arcelli.
Bike Shops
Finale Ligure has a big local and tourist bike scene. There are many bike shops and you'll be able to find help for most problems, there's even a carbon repair shop in Pietra Ligure we've used to patch up cracked frames. The locals are generally very friendly and the prices we'd consider reasonable. Tyres are expensive but most things are UK equivalent.
Oddone Bici
Andrea and Giovanni at Oddone Bici have been part of the Finale Ligure mountain bike scene since before there was a mountain bike scene. For them, it's all about the Italian generosity of spirit and hospitality. The shop is well stocked with products from Fox, Shimano, Smith, Pivot, Scott and Cannondale.
They've got a great way of finding solutions to impossible problems and the best part? There's a cafe bar serving great pastries, coffees and burgers, as well as Brewdog beers poured with a plate of delicious anti pasti. Damn.
Ultimate Bike Shop
Found in front of the bike park in Final Borgo, where you will find the Finale Outdoor Resort head office, Ultimate bike shop is a hub in the area for meeting riders and uplift options. Owned by Riccardo Recalcalti, a young local shredder, it's a large space that houses a range of hire bikes from Santa Cruz and clothing from Ion.
Hot Bikes
The only bike shop in Pietra Ligure, this new location is owned by Matteo Carrubba, who you will find at the top of many local Strava leaderboards set on his Transition Sentinel. A friendly, hard-working and fast riding one man show, this little shop in Pietra is worth dropping into on your way back to Finale from some of the best trails in the region.
Brands You'll Find in Finale Ligure
Bikes
Transition, GT, Pivot, Cannondale, Cube, Focus, Scott, Lapierre, Santa Cruz & Nukeproof
Parts
Shimano, SRAM, Fox, Formula, Hope (Sparingly), One Up, DT Swiss, Maxxis, Schwalbe
Clothing
Fox Head, Ion, Mavic, Troy Lee Designs, Scott and lines from bike manufacturers
Uplifts
There are around 25 separate uplift companies in Finale Ligure operating around 60 vans, rising from the original, Finale Freeride in the early 2000s. This number has grown specifically due to the evolution of the aggressive enduro bike. Previously downhill bikes were too much for the majority of runs here and XC bikes too lightweight for the gnar.
There's in reality a handful of consistently reliable companies worth using, it is an idea to do some research and make sure you get a good, prepared and qualified guide and driver, as some regulations that would be followed elsewhere have become grey areas in Finale, more on that further down.
RON
Ride On Noli are Marco White and Paolo Zunino, life time friends and ex racing buddies who setup their uplift company initially as pedal tours around the neighbouring town of Noli. They've remained small but their ideas have not. The operate a 9 seat van and two 4 wheel drives offering days around the Finale Ligure area.
Partnered with MTB Beds, if you book with us there is usually a Ride On Noli vehicle and guide with us, or one of our own. Marco is also the mountain bike representative of the consorzio that is pushing for trails and more legal responsibility in the area. Prices are from €60pp per day.
Back Country Finale
The idea of Alessandro Merlini, who is based out of the famous Osteria del Cantoniere in Melogno. Ale is an old school original Finalese, who isn't particularly interested in riding classic Finale Ligure trails, instead you'll more often find his Defender on beaten up fire roads trekking into the beyond. His new partner Sandra Boerner is someone a return visitor to Finale Ligure or even Morzine would recognise as an ex-employee of MTB Beds and Ride On Noli. Back Country Finale partner with MTB Beds for specific tours in the region. Prices are from €60pp per day.
Evolve Single Uplift
A large shop that has become the only provider of legal single uplift services. A popular choice for those wanting to get to the top of Finale Ligure's two main riding zones Din and Nato Base, without the 2 hour pedal. Costing 10€ per person, the taxi will take you to either location, with regular vans running around every hour to half hour during busy periods. It's a good idea to pre-book, or try your luck with a walk in, be prepared to wait for you slot if you do though, no worries, Final Borgo's numerous coffee spots are metres away.
The Politics of the Finale Ligure Trail Network
An odd topic to include you might think, but it's a question often asked and though the regulations are always subject to change, it is worth reading up on some rules and ideas to avoid confusion and disappointment.
Finale Ligure has grown as a mountain bike hotspot over the last decade to levels that were not considered possible when the first shovels were put to dirt. It has become a model to which many other locations both aspire to and also are fearful of. For the Finale Outdoor Resort and the uplift companies doing the right thing, putting work into trails and working with locals to ensure relations with non biking locals remain cordial, it can be frustrating to see others ignoring closed trail signs or riding when the trails are closed due to extreme weather.
The trail network is maintained by a small handful of locals, some riders some not, and some of the uplift companies. Some of this work is volunteer and some is paid. It's the case that shuttles can be stopped during rainfall due to the risk of damage to the trail network, which is vast but also due to the difficulty of access to emergency services. Some tracks are deep in dense forest, and over 20 minutes long, so sometimes a helicopter is the only option for extraction.
Due to a few incidents and many instances where these rules have been ignored, and the insurance risk landowners have with trails on their land, a new partnership with Finale Outdoor Resort and a Consortium of shuttle companies, hotels and locals businesses are working to strengthen the requirements to be able to operate in Finale Ligure.
With land ownership, bike patrols and uplift roads being made accessible only by those that abide by the rules. Only by working within this framework can the future of riding in Finale Ligure be assured. Our advice? Make sure you are booking with a reputable company, that the vehicle and guide you have is legal and qualified, and follow Finale Outdoor Resort on Facebook for updates on trail closures, weather alerts and hunting days, which can also effect trail closures.
Food
Restaurants
Finale Ligure has a cracking food scene. Quintessentially Italian and often fiercely local, you'll find something for most tastes, as long as it's Italian. There's really not much point in seeking out fine dining, the Italian cuisine are at their best when putting amazing flavour into simple dishes. There's also not much point in looking for traditional fast food, for Italians, that doesn't work, pizza is as fast as it gets and though you'll find a dodgy kebab and greasy burger here, it's weird that you're looking for it. You'll fins a solid enough pizza and menu selection wherever you go, but here are some of our picks.
Pomela
A stunning dining room and atmosphere in this busy restaurant up a side street in Finale Ligure centre. With a fixed menu central to the wood fired oven and grill, the focaccia style pizzas, grilled meats and fish are a winner though unless you like very plain, avoid the cheaper grilled single meat and chips option, as it is exactly what it says on the menu and nothing more. There is a rotating blackboard specials list that has handmade pasta's amongst local specialities. Simone the owner is one cool customer.
Il Basilico
The best pizza in Finale? Maybe, it's certainly the most authentic to style. It's Neapolitan style, so the base won't be crispy, this the way it's supposed to be from southern Italy. Paired with outstanding local Ligurian ingredients this is a must visit. There is also a good selection of other non pizza dishes.
Osteria Grotesque
A tiny little hotspot in Finale Ligure's main street, always busy and always friendly, this is a perennial favourite. Book to get a table or be prepared to wait a few hours. The menu is hand written every day and is all about local Italian dishes, cooked by a young crew passionate about their restaurant. Be careful when the digestivos come out, it might seem clever at the time but riding in Finale with a hangover ain't easy.
Il Quattro Canti
A small bistro in Final Borgo that is about as local as it gets. Local ingredients, local wine, local dishes. Cogniglio alla Ligure (Ligurian rabbit) is a highlight of the menu selection, as is the farinata, a chickpea flour based, salty cake/pizza hybrid. Again, book to avoid a wait at the door.
Pilade
If you must have your chips, Pop to Pilade, a friendly sports bar along the Finale Ligure main street that shows all the big events, with a great selection of dry aged beef, beers and grilled meat options, with friendly, speedy service.
Osteria del Cantoniere
OK, so unless you've booked a Back Country Tour you'll need to find a way to get up here. It's around 25 minutes by car from Finale Ligure into the hills. But this is, hands down, the best steak you'll eat, the best pasta you'll find and the best pannacotta you'll wobble. It's heart is the continuously firing wood fired oven and the relentless Maurizio, the only chef. His Dad forages the hills for produce, he'll only cook what's good and you'll not regret a visit here.
Party
If you plan to ride the next day, don't make the party till the early hours. Sorry to sound soft, but so many days have been ruined asleep in the back of an uplift van after too many gins, there are no easy trails in Finale, no chill, nowhere to hide. That being said, a good night in Finale is legendary. Nearly everything centres around the main square, so head there and see what happens.
Cafe San Pedro
Usually packed at apres bike, it's aperitivo buffet is cracking with a frosty beer after riding. Later in the evening it runs a great cocktail selection, with Marcello the manager a whizz on the shakers. Usually a bit more sedate as the evening closes in.
Cafe Van Gogh
The most likely spot you'll find a party. Discernible by it's director chair-style furniture, this is glitzy local drinking hole where the folks to be seen pose and sip gin tonics and cocktails till it all becomes too much and the party starts. It's not a pretentious spot, it's just where the beautiful people go, it seems.
Cafe Calviglia
Kind of an in between from San Pedro and Van Gogh, Calviglia is good for apres bike beers and snacks, which are brought to your table here. Run by a local family, one of whom is a local mountain biker, you'll find many of Finale Ligure's bike scene here in the evening.
Birrificio Finalese
Good luck if you find it open, it does seem to be random. But, the beer is great and the atmosphere is sedate for those just wanting a chat where the beer is made, right next to you. Usually there is around 5 beers on tap, from pale ales to IPAs, stouts and golden lagers.
Barca Bar
Most bars in Finale close by 1am. Yes there is strip club, it's the only place to go other than bed, we don't know anything about it as we've never been. Honestly. Really.
Activities
Known as a mountain bike destination by you, Finale Ligure is also a great tourist spot in it's own right. Finale Outdoor also has a strong influence from climbing and mountaineering, it's one of Europe's most popular spots.
Climbing
With easily accessible Via Ferrata routes, marked rock faces and free climbing on offer, you'll find ll the advice you'll need in Final Borgo, where 5 climbing stores next to each other can do everything from offering advice, guiding and equipment for rent.
Fishing
With one large fishing shop on the road from Finale Ligure to Finale Borgo, you can hire a setup and get yourself onto the pier to send out lines with the local old boys, you'll catch bream and bass if you're lucky.
Walking
Liguria is vast, it's dense forestry stretches for miles and miles and you can easily get lost in the woods if you want to, it's a stunning and peaceful landscape with views opening up through the trees and ancient caves carved out by early humanity, it's pretty cool!
Costs
Finale Ligure is in Italy. Italy is cheap, espresso's cost €1 and a beer around €4/5. But Finale Ligure can get quite expensive if you do things the hard way.
DIY
Shuttles with a guide – €50 – €60 per day
One Uplift – €10 per person per uplift
Guide with pedalling – €60 – €80 per person per day
Food and booze – Anywhere from €10 – €200 per day depending on the restaurant and how thirsty you get.
Travel costs – £300 – £600pp estimate depending on method used
Transfers MTB Beds – from £360 per return van journey
Accommodation – £100pp – £500pp (pot luck on bike storage and facilities if booking through AirBnB)
Or
MTB Beds
Riders Week's Package – from £799pp (includes transfers + uplifts + Half Board Accom)
Travel costs – £100 – £600pp estimate
Beer money – €Your call
Extra
Bike Choice
Don't bring a downhill bike. Though the trails are gnarly they often have flat or even small up hill sections, as well as there regularly being a short pedal or push to the start of some. What you need in Finale Ligure above all else is a strong, well-maintained bike with equipment built for abuse, and above all modern geometry.
Bikes with steep head angles and short reach come up short so often on these trails, slack and well-fitted puts you on a stable and centred platform ready for those rocks and surprise compressions.
Anything over 140mm/150mm if a 29er or 150mm/160mm if 27.5 will be good. Run DH casing or equivalent tyres. 26" is a bad idea now as spares are nearly impossible to source. Finale Ligure is in our opinion one of the hardest places we've ridden a bike in terms of the abuse it gets every day, do your hoiday a favour and prepare with the right kit. Or rent a Transition from MTB Beds.
Essential kit checklist
Bike. Prepped, bled, serviced and cleaned. MTB Beds and the local bike shops can look after these jobs for you when you get to Finale Ligure but it's always good to know your steed is ready to shred.
Insurance. Your EHIC won't cover much and it certainly won't help after Brexit. Yellow Jersey can cover you, your bike and your whole holiday. Get it done through MTB Beds.
Helmet and goggles. If you've crashed in it and bashed your noggin, if the lenses are dull and scratched, replace.
Riding Kit. Three sets will cut it, a muddy day can write a whole set off no worries!
Riding Shoes. Vans are for skating and pubbing, get yourself some decent riding shoes and you'll never look back.
Spare derailleur hanger & bolts. If it's rare, buyer direct or boutique, it'll be hard to find or get shipped in time to save a holiday. If it's got a chance of breaking or going missing and it's hard to get, find and pack it before you travel.
Decent tea. Unless you're staying with the best you'll find it hard to come across a good cuppa.
UK adaptors. You all forget.
Keep an eye out on our Features page for more ultimate guides from MTB Beds.
Check out everything MTB Beds related on their website here.
---