The Project 23 Carbon full face helmet from protection specialists 7iDP is a really interesting addition to the premium full face market.
7iDP join the fray with their own carbon full face helmet in the form of the Project 23 Carbon, joining its composite little brother. Ben has been finding out if it cuts the mustard.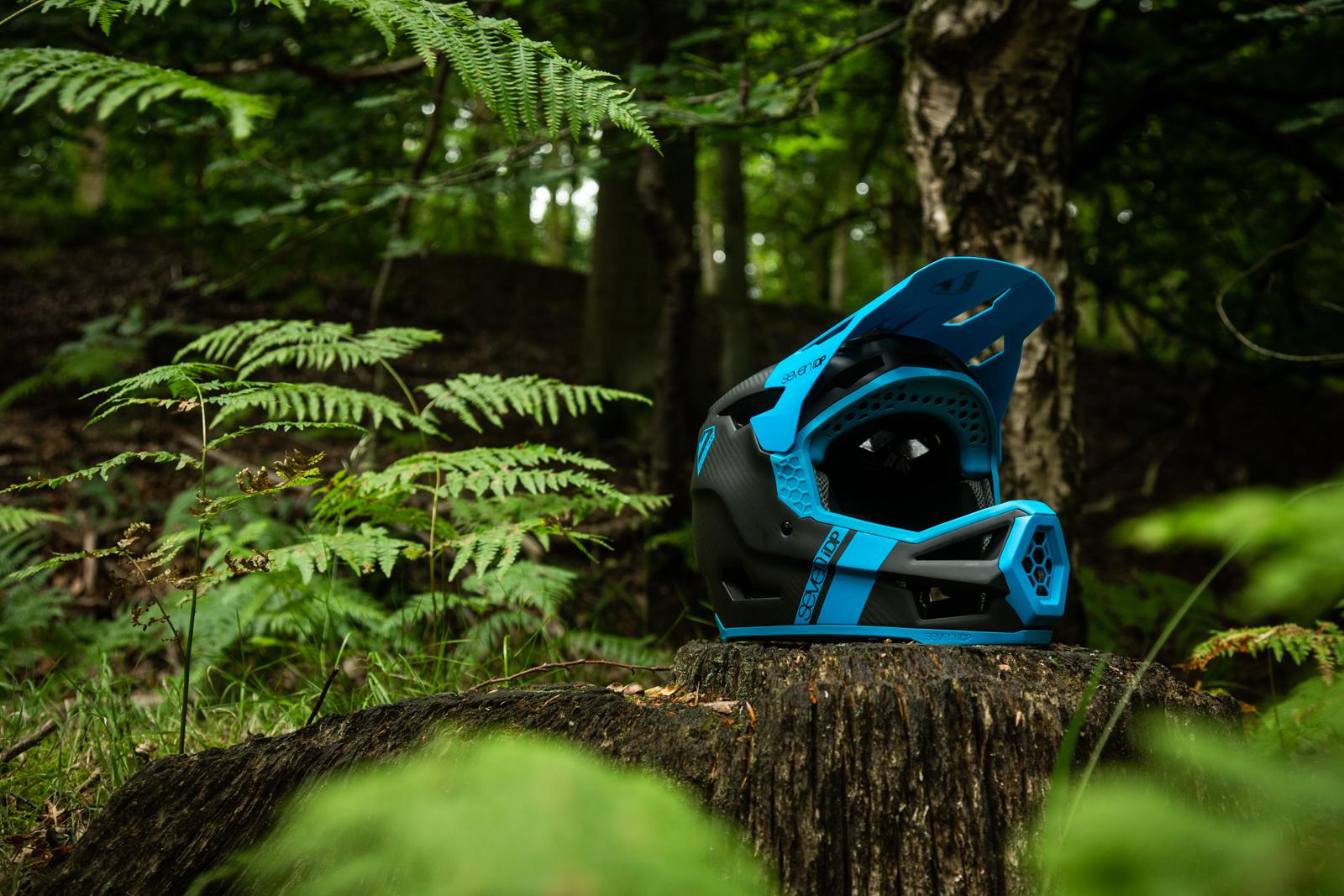 Key features:
Full carbon shell
SERT Slip plane
23 Air vents
945 grams in Size Large
Fidlock fastener
£269.99 RRP
Up until now, a full face was either a light weight enduro type lid, like a TLD Stage or Fox ProFrame, or a full on DH model. The Project 23 sits somewhere between the two, with more venting than most DH helmets and more protection than most enduro ones. Ben hit some summer laps to find out how it measured up against the established big hitters in the helmet game.
As usual with a modern MTB product, the features list is a long list of acronyms and jargon. The main one that matters with the 7iDP is the SERT system that is designed to reduce impacts that can cause CTE. You can read about SERT in more detail over on the 7iDP website, but essentially it is a system designed to transfer the energy of an impact. This is essentially what MIPS does with helmets from other brands, although they go about it in different ways.
Other safety features include a break away visor and a secure Fidlock magnetic buckle that has proven itself to be a convenient and secure fastening for several of my test helmets over the years. The shell is carbon fibre to keep things light and strong and a fibre glass version is also available for £100 less.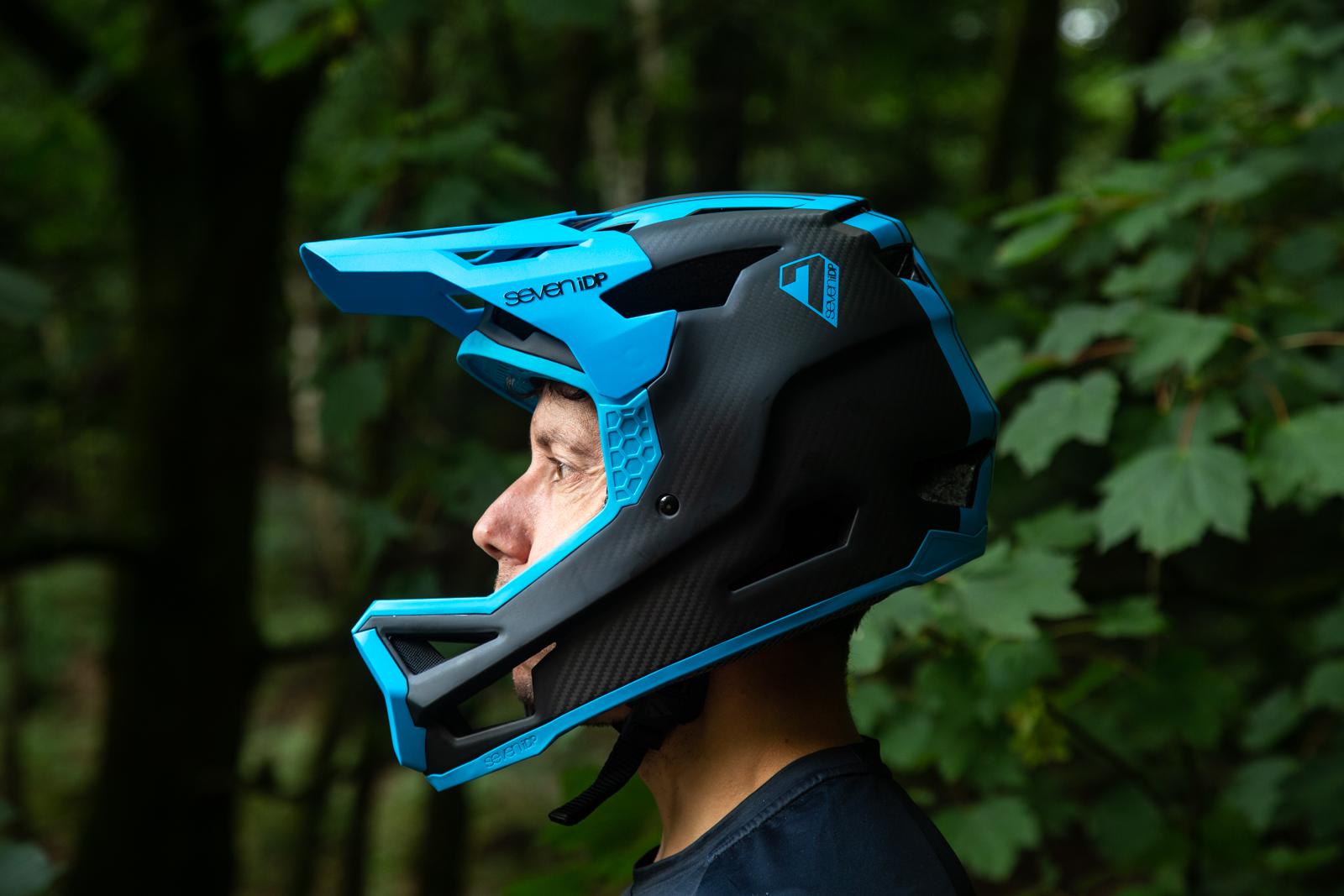 The padding is comfy and features an AGION anti-microbial liner to stop your helmet from stinking after a summer of sweaty bike park laps. I found the fit of the size large to be bang on for my 58cm head. The fit is similar to helmets from Troy Lee Designs and when I put it on, it felt immediately familiar and secure.
Aesthetically I liked the helmet and it went down well at the trails. It has a contemporary shape to it, and the angled vents give it a real sense of purpose. The only thing that let it down for me was the blue plastic visor as when it is set against the matte carbon, it just looks a bit cheap and out of place. This helmet is also available in a sleek looking matte carbon and grey finish that looks really cool and is where I would spend my money. Having said that about the visor, it is well-proportioned and easy to adjust, although bike park bro's may want it to go higher to get the right look in the lift queue.
In use the Project 23 Carbon feels like a DH lid with the way it snugs your cheeks in and cradles your head. You feel safe and secure, noticeably more so than with most light weight enduro full faces. Despite this, it also feels remarkably airy for a full blown DH helmet. The vents do a great job when you get up to speed, and you can easily climb in it if you were racing enduro. It is a bit of a, 'Goldilocks' helmet sitting exactly between classic DH helmets and modern enduro helmets in terms of comfort, protection, weight and ventilation. This makes it a great choice for a lot of riders who want one full face to do everything.
What do we think?
The Project 23 Carbon from 7iDP is a competitively priced, top quality helmet that should keep you safe and comfortable no matter what you ride. We really rate this helmet, we just wish we tested the all black one.
We Love:
Lightweight DH-level protection
Plenty of vents
Could do better:
The blue peak makes it look cheap
You can check out the 7iDP Project 23 helmet and the rest of the 7iDP range on their website here.
Read all our product reviews over on our Gear page here.
---