Buying a kids' bike can be a nightmare, especially if you know fine well that they're going to grow out of it quicker than you want them to.
Ben put his daughter Daisy to the task of testing three first pedal bikes to see which one came out on top.
It's a key moment in all of our lives, that first time that we ride unaided and we begin to cover the ground faster than ever before. Kids' bikes have taken giant leaps forward in design and weight in recent years, so Ben brought three together from Early Rider, Vitus and Black Mountain to find out which was best.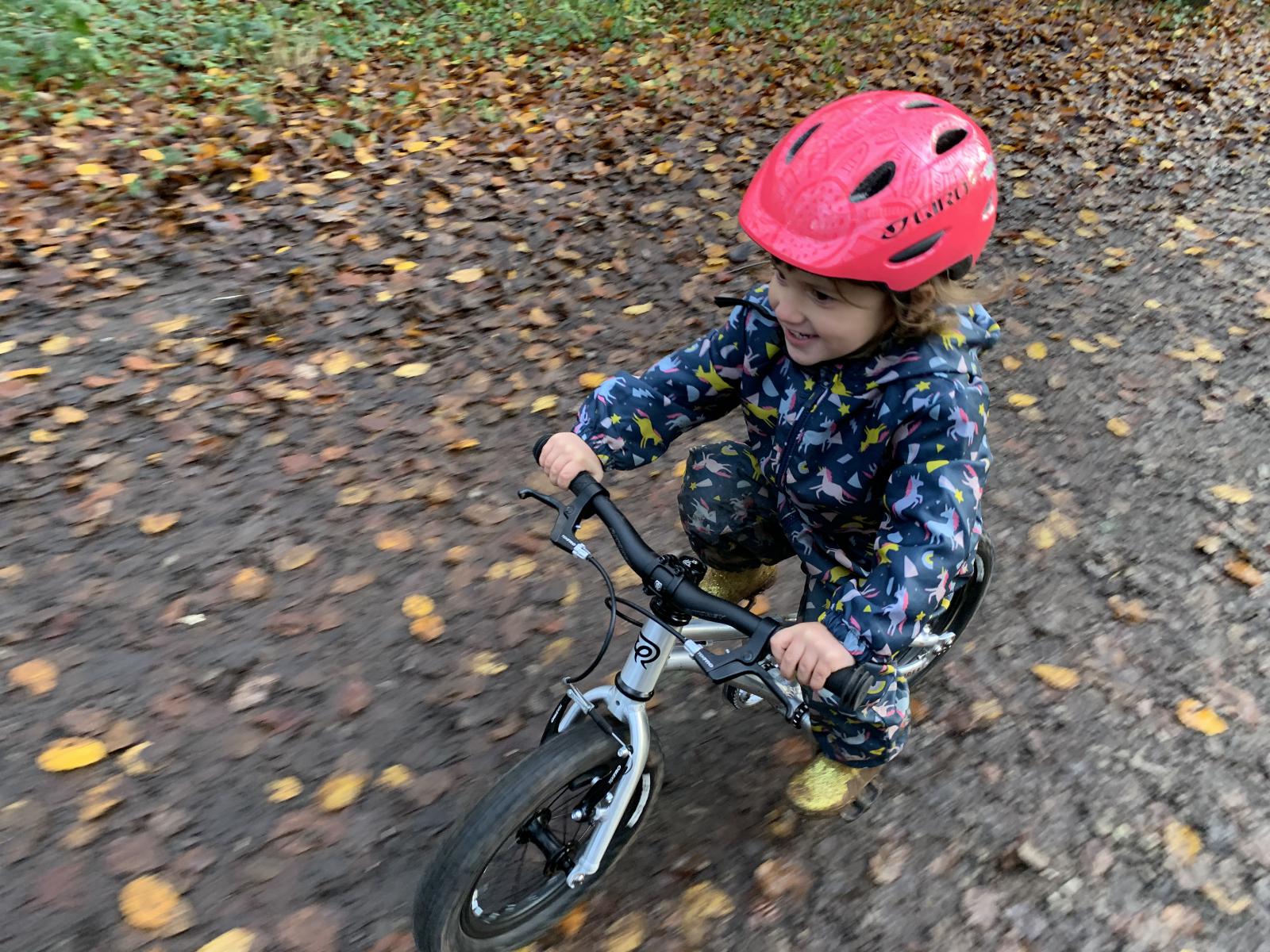 For any MTB mad parent, seeing your child learn to pedal on their own is a big deal, up there with first steps being taken and the first time they say, 'gnarly.' Wideopen's newest shredder, Daisy, was lucky enough to try three 'first pedal bikes' as she got to grips with pedalling on her own this autumn.
The way we learn to ride a bike has changed a lot in the last decade or so. Back in the 80s when I learnt we all had stabilisers (training wheels for our State-side readers) on our bikes, careering down the road leaning from side to side until one day, Dad would un-bolt them and you would get shoved down the garden to meet your fate. Whilst we all got there in the end, the fact we couldn't balance and had no confidence to coast made removing the stabilisers scary and quite a big deal.
Fast forward to the present day and pretty much every kid learns on a balance bike. No pedals, just a low bike that the kid can scoot along and then gradually learn to pick up their feet and balance. The process is basically reversed. In the 80s I learnt to pedal first and then learnt to balance, and now kids like Daisy and her mates balance first and then learn to pedal once they have the confidence and some basic (but sketchy) bike handling skills.
The other thing that sucked about learning 30 years ago was that the bikes were not very good. They were heavy and the brakes were basically useless as the levers were too far away and too stiff for a 3 or 4 year old to pull. Pedal bikes were almost always too big and you could go out into the street on any Christmas afternoon to see kids riding the cross bars of massive bikes, whilst their half-cut Dad reassured Mum that little Billy would grow into it soon.
The new crop of light weight, properly sized kids bikes have opened the doors for toddlers and young kids to start riding independently at younger ages than ever before. We were lucky enough to get sent three bikes, from Vitus, Early Rider and Black Mountain to try out as Daisy took her first pedals and gradually left the balance bike behind.
Early Rider Seeker 14
Key features:
2.25 Inch Vee Tire tyres
Belt drive
Tektro V-Brakes
5.6kg Weight
£309.99 RRP
When the bikes turned up this is the one that I was most stoked on, for no other reason than it had big, knobbly tyres and I thought it looked cool. A proper little mountain bike for a future shredder.
At the heart of the Seeker 14 is a very slick, lightweight aluminium frame with low stand over and a real feel of quality about it. It is only available in silver which is both good and bad. On one hand it doesn't go down the whole pink/blue, girls/boys route as many brands inevitably do, but on the other hand a lot of kids are probably not going to be that interested in the colour, Daisy included. When you are three and a half, colours matter. Either way, Dad thought it looked rad.
A real positive for the Early Rider is that it was the lightest bike on test by about 200 grams which makes quite a big difference to young kids. It is also worth noting that it still achieves that low weight with the biggest, fattest tyres on test. This bike also comes in another version the Belter 14 with slicker tyres, saving another 100 grams and £10 in the process.
Other features include a rad little set of nylon flat pedals, complete with moulded pins and low profile design. I wasn't sure how much difference these would actually make, but as Daisy learnt to pedal, she would frequently roll her Peppa Pig wellies off the front of the pedal on the other bikes more often than on the Seeker 14. When she inevitably shinned herself for the first time (requiring a Peppa Pig sticky plaster) these pedals were inevitably quite harsh and led us to get some knee pads for her. Now she is able to pedal consistently, these pedals do seem to give her the best connection to the bike of any bike on test.
The belt drive is a nice addition for the main reason that kids like to stick their grubby little fingers into small places and the belt is a bit safer and lot cleaner when she was mucking about with her bikes. It ran smoothly and had very low friction, even when it got a bit muddy in the woods. All three bikes had slightly different gearing and the Early Rider's was the hardest which really reduced Daisy's ability to pedal up even the smallest of slopes, despite its low weight.
All three bikes had Tektro V-Brakes fitted with short reach levers, yet the braking performance varied a fair bit between the bikes, despite my best efforts to adjust the brake blocks, just like I used to do back in the 90's. This was the only bike that Daisy managed to endo, accidentally yanking the wrong brake whilst trying to do a skid. It was mildly stressful to watch, but also a proud moment for Dad as she rode it out. This was all the proof I needed that the brakes were plenty powerful enough for little hands and led me to loosen off the cable adjuster for the front brake until she learns her left and right.
Speaking of little hands, the Seeker 14 had the largest diameter bars of the bikes on test. Combined with chunky grips, they were pretty big for a 3 year old and she had an open hand grip on them compared to a more closed hand on both the Vitus and Black Mountain. She never got arm pump or lost her grip, but I think there is more potential for her to lose a hand hitting a big bump than on the other bikes.
With such big tyres, this bike was first choice for muddy mornings in the woods where they made a surprising difference to her confidence compared to the other bikes. The tyres damped the stones and leaves somewhat and also helped her learn to turn corners, where the Vitus' front wheel would slip and slide with its slick tread. The amount of grip did limit the bike's skid ability on tarmac, but it could still do decent skids on wet leaves.
What do we think?

Daisy really loved this little bike despite the lack of colour. She liked the fact that it looked like Daddy's bike with the big tyres and as her riding improved she had some awesome sessions in the woods on the Early Rider. It really is a top quality bike.
We Love:
Lightest on test
Chunky rubber
Best brakes
Could do better:
No colour options
Big gearing
Black Mountain Pinto 14
Key features:
Frame grows with your child
Belt drive
Custom 19mm diameter bars
Available in 4 colours
5.7kg Weight
£349.00 RRP
The little orange rocket from Black Mountain is unique amongst its peers in its ability to morph from balance bike, to first pedal bike, to an even bigger pedal bike. The bike is built on a simple, yet effective growing frame design. When it arrives it is in the smallest configuration and does not have the pedals or drivetrain fitted, making it a balance bike, just with brakes and bigger wheels than most balance bikes. This gives a growing child the opportunity to build some confidence on the bigger bike before moving onto pedalling.
To step up to a pedal bike you need about 15 minutes and a basic set of tools which are provided. You replace the seat tube assembly for one that has the chainring and cranks on the bottom, add the belt drive, bolt it together and off you go. In this configuration it is 100 grams heavier than the Early Rider, and 340 grams lighter than the Vitus.
Although Daisy is still not big enough to go to the next size, the frame is able to grow to accommodate your child as they get bigger. It takes about 10 minutes and all you have to do is undo 2 frame bolts, pivot the frame, do it up again in the new larger position. You then drop out the rear wheel in order to switch over the rear cog to the smaller cog which is ingeniously located within the existing cog. Once complete you have a bigger bike that still fits your growing child and don't need to buy another.
On the subject of gearing, the Pinto has the easiest gear of all three bikes and this made a real difference to its rideability in a wider range of situations as Daisy was able to pedal on rougher terrain and up gentle slopes that were not possible on the other bikes. This gearing then grows with the child as when you make the bike bigger you remove the large rear cog to reveal a smaller rear cog, making the gear harder, but in line with your child's strength and ability to pedal. It is really well thought out and executed and the belt drive was clean, quiet and smooth, just like on the Seeker 14.
In the small configuration that Daisy was using, the Black Mountain is the shortest bike on test, with a nice upright riding position that seemed to inspire confidence compared to the more stretched out Vitus, in particular. The only problem with the shorter top tube was the limited space between saddle tip and stem that Daisy got a bit stuck in a couple of times as she learnt to pedal and sometimes came off the front of the saddle. Obviously this distance grows when you switch the bike to the bigger version.
The brakes were easily powerful enough for little hands, and combined with the minimal tread on the back tyre, this was the bike that Daisy learnt to do skids on. The front brake was also powerful enough, but I loosened it off early in the test after the endo incident on the Early Rider. Part of what made the brakes so useable was the small diameter bars and grips, letting her really wrap her hands around them securely, even with gloves on.
The Kenda Small Block 8 tyres were a good middle ground between the slick Vee Tires on the Vitus and the chunky Vee Tires on the Early Rider. They had enough tread not to slide too much in mud and puddles, but still zipped along nicely on tarmac and in the outdoor skatepark. If you wanted more cushioning and off road ability, then a fatter tyre would fit through the frame and forks. This would also give a larger total wheel diameter and may be worth considering as your child grows and you adjust the bike to the bigger setting.
When asked which bike Daisy liked the most, she instantly replied,
"I like the orange one because it is the fastest."
Obviously she is only three and we can't quantify this, but as an observer it did seem to be true. I think this is down to a few things. The low gearing let her keep on pedalling and build up a good amount of pace, especially on hard surfaces. The tyres then complimented that with decent rolling speed and finally, the riding position really suited her and she would take more risks and ride this bike faster than any of the others.
The Pinto is the most expensive bike on test at £370 which is certainly a load of cash to spend on a kids' bike. However, the bike's ability to grow and the fact you get three bikes in one, makes it tremendous value as you can keep it for a lot longer before they grow out of it. It is really well made as well, so if you hold onto it, you can easily hand it down to younger siblings or pass it on to friends, extending its life. We also like the green credentials as a design like this means less bikes need to be built and that must be a good thing.
What do we think?

Daisy loved this little bike and it was the one she kept reaching for even though it wasn't purple like the Vitus. It is a really clever design, well made, and thought through. It is the most versatile bike, thanks to the sizing, low gear and all round tyres. The Black Mountain Pinto is a great bike for any aspiring shredder moving to pedals.
We Love:
3 Bikes in 1
Light weight
Low gearing
Could Do Better:
Vitus 14 Kids Bike
Key Features:
Custom, small diameter bars.
Chain drive
Available in 3 colours
6.04kg Weight
£229.99 RRP
The imaginatively named, 14 Kids Bike from direct sales brand, Vitus is the cheapest on test by £80, and a whole £120 cheaper than the Black Mountain. It is also built around a light weight aluminium frame and 14 inch wheels. It is available in 3 colours, including purple, which Daisy was stoked on, as it is her favourite colour.
The Vitus is the heaviest bike on test, coming in at just over 6kg, To be fair, this is still not very heavy, especially compared to budget bikes, and part of that weight will be attributable to this also being the biggest bike on test. Whilst it is a first pedal bike with little wheels, it is also the longest and tallest frame on test. As well as the long reach (full enduro) it has a 60mm stem fitted which makes the riding position very stretched out for young kids like Daisy who is 3′ 2″ (98cm) tall. Whilst she could ride it, you could see that the front end would wander around a bit and she was not as confident to ride turns. As a veteran of 6 years testing bikes, it makes me smile to suggest that this bike needs a shorter stem.
Another chunk of weight will come from the chain and metal chain rings compared to the light plastic cogs and belts on the other bikes. This is obviously part of the reason for the cheaper price, and in use it seemed to be just as free spinning and low resistance as the others. The gearing was the middle of the three, easier than the Early Rider and harder than the Black Mountain. The chain was minimally oiled and pretty clean and we didn't have any issue with oily clothes or trapped digits thanks to the full length, removable chain guard.
Whilst all three had Tektro brakes, the ones on the Vitus never quite had the same bite. Daisy could slow herself down and stop under control but couldn't do skids (except on mud) on the Vitus which was probably safer, but she was a bit bummed about it. Like the Pinto, the Vitus also has small diameter bars and grips, giving Daisy a solid connection to the bars.
The tan wall tyres were speedy, slick affairs that whizzed along on pavements and in the skate park, but they inevitably slid about loads on wet mud in the woods. Most kids probably won't do much riding in the woods at this age, so fast rolling tyres like this make a lot of sense on a first bike like the Vitus. A nice touch that Daisy loved was the inclusion of a bell on the bars that she quickly got the hang of dinging as she span along the road. The Vitus also has a load of reflectors on it which she enjoyed shining a torch on and playing with. They are small things, but kids love stuff like that.
WO Verdict

The Vitus 14 Kids Bike is a solid bike for a good price, however it is on the big side and would be better suited to slightly older, bigger kids than Daisy. She still go the hang of riding it and loved the colour and of course, the bell.
We love:
Entry level price point
It's purple and has a bell
Speedy tyres

Could do better:
Overall Test Winner and Value Award

All of these are rad little bikes that your kid will love. They are all well thought out for little hands and legs and any of them would be a positive stepping stone for a kid who is ripping a balance bike, however we have to award a group test winner…
Daisy summed it up nicely, when she said that the Black Mountain Pinto 14 was her favourite because it is the fastest bike on test. It is just a little bit more useable than the others and inspired the most confidence to get out and shred some puddles. We are also giving it the Value award due to the way it grows with the child meaning you won't need to buy another bike when your little one has a growth spurt.
What first pedal bikes are your wee ones riding? Let us know on our Facebook page.
---