Marin Bikes treated us to a sneak preview of the new Marin Alpine Trail 7.
The Alpine is a long travel 29'er with great geometry and a really decent price tag.
The new Marin Alpine Trail is a long travel, 29'er that has 150mm travel. It's the latest in a long line of new school bikes from the Californian brand that are pulling together great geometry and great value.
In the same way as the new Rift Zone, Nail Trail and Hawk Hill, Marin have taken the sort of sizes and shapes you'd see on a full-budget bike and made something that comes in well below £2500.
Alpine Trail 7 and 8
The new Marin Alpine Trail comes in two versions. Both versions use 29″ wheels, have alloy frames and are designed around a 160mm fork and 150mm rear travel.
The geometry is bang on trend with roomy reach measurements and a confidence-boosting 65° head angle that was great fun down our local test track.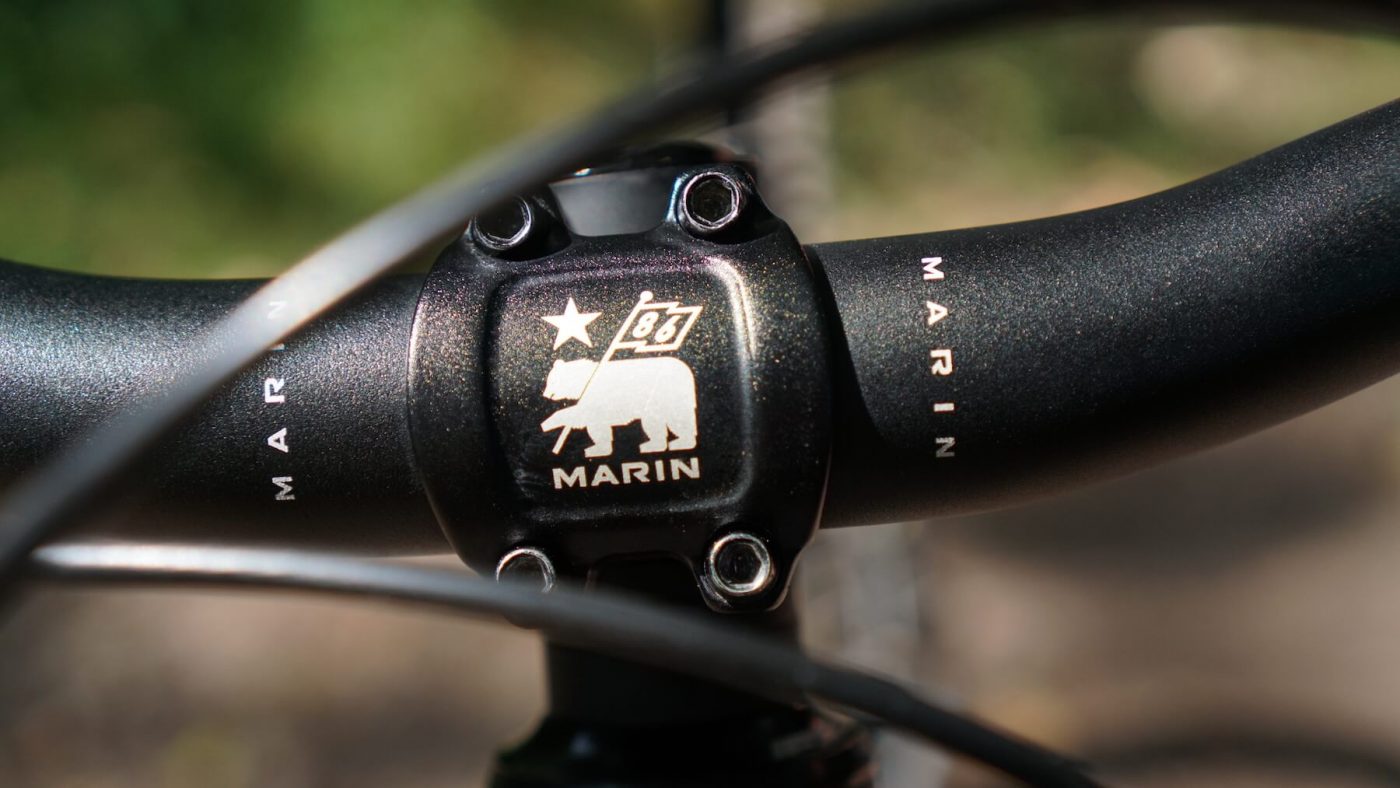 Alpine Trail 7 – the bits
We rode the lower spec Alpine Trail 7 which is £2200 and does a clever job of using a few of Marin's own components and a few lesser known brands.
The Alpine Trail 7 has a couple of surprise appearances on the spec sheet and a few familiar faces.
Suspension is a mix of RockShox and X-Fusion. There's a 160mm Rock Shock Lyrik up front, a Trunnion mount X-Fusion O2 PRO RXC rear shock, with a lock-out switch.
Where the bike takes a few departures from the big names with the spec, it's great to see Marin stick with a tried and tested and very reliable fork in the Lyrik. Top work.
The Trunnion mount shock is a big update to the Marin range. The Trunnion design means that the shock can be mounted lower in the frame, allowing a lower stand over. That sounds like a small detail but helps build a frame that can be XL long without being XL tall.
Gears are a mix-and-match with a Shimano SLX rear mech, 11 speed eThirteen cassette (9-46T) and Shimano levers. FSA cranks are up front with a 30T chain ring.
The wheels are Marin's own, with 29mm wide double wall rims and tough, unbranded rims. We love seeing lower-cost bikes come with decent tyres and Marin have done a great job here by speccing Vee Tyres Flow Snaps in Tackee Compound and single ply.
They probably won't stand up to serious abuse but they're a great tread pattern and felt fun, fast and comfortable on the trails.
Brakes are Tektro Orion and are 4 pots with a 203mm rotor on the front and 180mm on the back. They felt decently powerful and easy to use on our test track but we'd need a bit more time on them to give a proper review.
Last but not least, Marin have finished the bike with some of their own brand gear which is unglamorous but does a fine job. You can't complain at a 35mm stem, 800mm wide bar and comfy saddle for the price you're paying for the Alpine Trail, right?
The Alpine Trail geometry gets a thumbs up
The geometry of the new Alpine Trail was the biggest surprise.
We're all crying out for longer bikes with loads of standover and we've got it right here in the Alpine Trail.
I'm 5ft10 and rode the XL with 490mm reach – 3cm longer than most of the bikes I've ridden lately. It had buckets of stand over and meant that I could either go for a big bike in the XL or back down to a large with a 460mm reach.
Despite the lofty 490mm reach on the XL, the bike didn't feel like riding a gate. Our test track was a good mix of tight-and-twisty and fast-and-rooty and it felt easy to pick up and move around and was a fun bike to chuck about and pop off lips and throw into rutty berms.
That playfulness fell away slightly when the bike wasn't at speed – mainly when I was just messing around on the bike between trails – but I'd expect that's more my height and the size of the bike.
I didn't get a huge amount of time climbing on the bike. I lapped out a couple of short fire road stints and the bike felt fine but certainly didn't zip back up the hills compared to some of the other bikes we've ridden this year. The 46T on the cassette was great to sit down and spin and the XFusion Manic dropper has 150mm travel (125mm on size small) for plenty of seat height.
More time needed there though.
When can you get one?
Marin reckon they'll have stock of Alpine Trails in August 2018. We're looking forward to getting our hands on one for a proper test.
Based on a first ride down our local test track we're expecting a bike that, with a few modest component changes, is going to be bloody good fun and faster than some options that cost far more of your hard earned cash.
So far so good for the Main Alpine Trail 7. We're looking forward to spending more time on the bike as Marin get stock in the UK.
---