Team Wideopenmag's Chris Hutchens heads to Minehead for the Southern Enduro Champs to open his 2020 enduro racing account.
The Southern Enduro Champs at Minehead would, for many, be the first race of 2020 and an opportunity to see just how rusty they'd become or how any hard work during lockdown had pair off. Team Wideopenmag's Chris Hutchens reports.
Photos by Dave Price.
It's been a pretty fluid year with race cancellations, race dates changing then being cancelled, some still in the diary but likely to be cancelled or for a few organisers the opportunity has actually come to fruition to host an event.
The appetite from riders has been there with entries selling out fast. Of course, there's lower numbers and strict social distancing measures put in place to ensure things are managed safely, which is great to see. This combined with the limited number of races available also compounds the supply and demand issues for racing in the UK.
With lockdown measures changing daily the announcement of races is hard to keep up with. Southern Enduro made a call to press ahead with their event, the Southern Champs, in Minehead only a few weeks before the event so I grabbed an entry, or transferred it from a previous event which had been cancelled, and blocked my diary out.
What was the first race under COVID-19 rules going to be like?
Well, the Rona reduced the entry size to 300, from the usual 600, and riders were spaced out at 1 minute intervals. This definitely had its advantages.
The biggest change to the events format was the two days of racing with 10 stages in total. The 'blind' racing format was to keep the flow of riders during the day and avoid the usual mass of riders at a technical rooty section trying to identify the perfect line.
Racing kicked off with the ever growing e-bike category before working through the age categories.
Saturday was a wet, damp and drizzly day. The perfect August weekend, right? Stages were a varied mix with multiple lines, sprints and some rough technical features. The loop was a mere 13km with riders completing the five stages in under 3 hours… the ebikes much quicker. The slog was real and the transitions were draining.
Some stand out sections from the day (for good or bad) had to be the bottom of Stage 1 which after some fast drifty turns went into the most delightful rooty switchbacks which I ensured to finish in style with a dramatic crash over the line; the top stage 2 had a vicious never-ending pedal and finished with a lightning fast, well-established section through the trees then onto stage 5 which included some of the few jumps on the course.
Racing would close out for the day after 5 blind stages and leave everyone mulling the results over, wondering what they had to do for Sunday. In my category it was Sam Shucksmith, who's previously done well here at DMR Ex and previous Southern Enduros, who I noted had posted a few bad stages. I'm sure others in their respective categories were computing where other riders placed in relation to their day. This is something I like about two day events although the blind racing element throws in a totally different perspective.
Come Sunday riders would wake to a proper pea-souper day. Thick fog hung around like an unwelcome virus. The air was close but as the morning ticked on the sun would appear in some form keeping away the rain showers which had fallen over night. The mud thickened with every hour's passing and the humidity increased. As Ash Mullane compared it, it was like racing five stages inside the Eden Project.
The e-bikes rolled off again and were back by the time I headed out to race with the Masters. The shorter loop, still consisting of 5 stages took in 3.5 of the previous days stages, covered around 8km and took riders around 2 hours to complete. The physicality surprised me though. Minehead shouldn't be underestimated for difficulty. The main additions were an awkward final left hand turn and sprint finish on what was stage 5 yesterday and would become stage 4 on Sunday including a completely fresh section on the final stage which reminded me of races of old.
This definitely kept everyone on their toes and was clearly a leveller as this was the only stage Wyn Masters won and put time into the locals. Did this say a lot about local knowledge at a blind race? It was great to see Wyn here racing, now a UK resident and the fastest Enduro racer in the UK right now?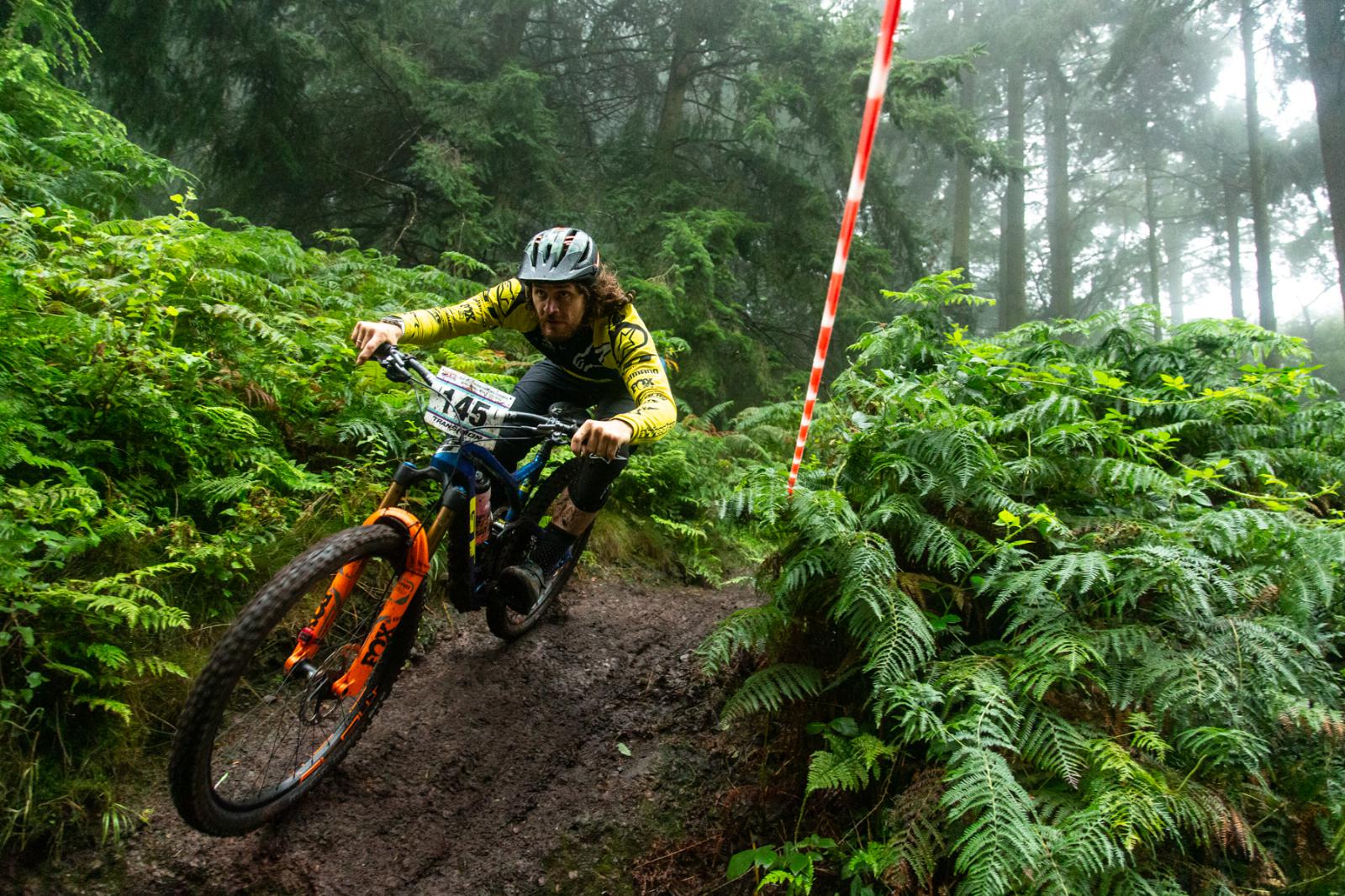 It was good to be back racing that's for sure. For me I placed a frustrating 4th place but with no physical podiums, I was happy with my riding and pace. My Mega was running well and it was good to see how the Kenda tyres and new Manitou Mezzer Pros performed in a race. I think they proved themselves well.
It was the South West boys that dominated from a look at the results sheet with Ross Hancock winning Masters, Sam Shucksmith making a strong showing on Sunday to climb to 2nd. Ash Mullane 3rd.
Fastest time of the day went to Ross Tucker riding for local shop Kustom Bikes. A tremendous ride by all accounts.
Ben Baker, a familiar face from the old downhill days, won the ebike category.
There were some seriously fast women across all the categories and they made up almost 10% of the field. There's certainly an upward trend in females racing which is superb to see but it's not quite 50/50 at events yet. Becky Cook took a convincing win on the day with some close racing for positions amongst the female categories.
Big thanks to Southern Enduro for putting in the measures to make the event as safe as possible for everyone. It was good to be outside racing with friends and being back between the tapes for the first time in almost 10 months.
Full results from the Minehead Southern Enduro champs can be found here.
---