The after-work ride is now 100% after-dark.
You can either hide on the sofa or you can invest in a decent set of mountain bike lights and go get stuck in to some night riding. Exposure's Diablo Mk9 and Race Mk12 lights landed just in time!
We're big fans of the mountain bike night ride and we've spent the last month testing bike lights to suit a range of budgets to help get you guys out on the trails.
First up, we're looking at an Exposure double team and a pair that will power you on through this winter and many more to come. The price of good lights isn't cheap but we'd argue that the value of good lights is what justifies the price. They're an investment that unlocks another six months of evening rides and buying quality, reliability and toughness means they could well outlast your bike.
Exposure Diablo Mk9 features:
Max 1500 lumens
Runs for 1 hour at max power, 24 hours at low power
4 hours charge time
Weighs 120g
Helmet or bar mount
£209.95
Exposure Race Mk12 features:
Max 1900 lumens
Runs for 2 hours at max power, 36 hours at low power
9 hours charge time
Weighs 186g
Bar mount
£239.95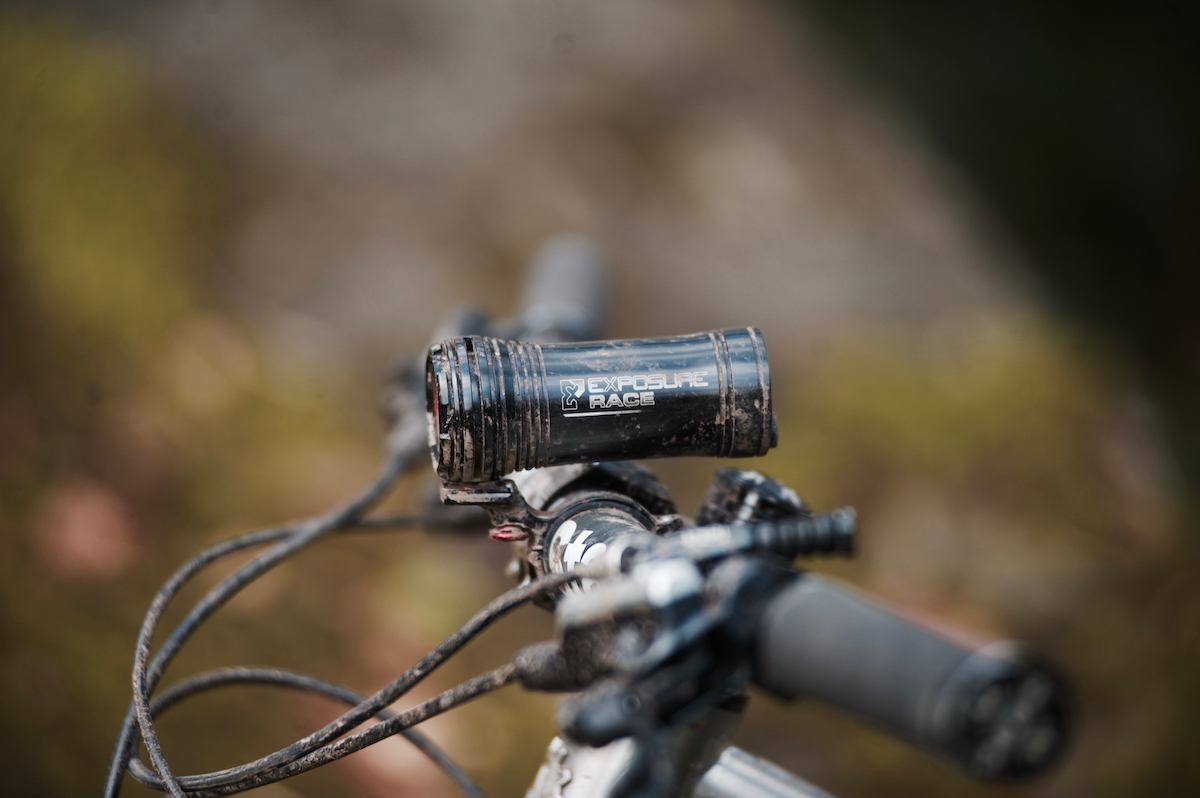 One light good, two lights better.
Why are we testing two lights here and pushing the price from £200 to almost £500?
We think you should always ride with a helmet light first and foremost. The light on your head always points where you're looking and guarantees you can see where you're going.
If your budget allows, add a big, powerful bar-mounted light to your setup. The bar mounted light will guarantee plenty of light gets punted down the trail when you're charging down fast, straight stuff and you need to see the most. If you budget doesn't allow, don't sweat it, save up and get one next winter.
For your head or your bars: Exposure Diablo Mk9
The Exposure Diablo Mk9 is a light weight, simple to use and very tough light that'll work on your bars or your helmet.
The light is made from CNC aluminium and is weather sealed, meaning it's tough against foul weather, crashing and clumsiness. The stellar build quality and reassuring toughness definitely makes the £200 price tag a little sweeter.
The Diablo is lightweight and simple enough to use meaning that it's a brilliant helmet light that once fitted is barely noticeable (except for the massive beam of light firing out of it, that is). At 120g it weighs about the same as two Mars Bars.
The Diablo's 1500 lumen makes it just about powerful enough on its own for proper, technical mountain biking.
It fires out a decently bright, wide and consistent beam via three LED's and we've found it's strong enough for steep, technical stuff in the woods and the usual fast-ish, flowing singletrack.  If you're in a group of other riders using decent lights, you won't struggle for vision, though you may find a shadow form in front of your wheel if you're being followed by a rider running two powerful lights.
The only down side of the Diablo is the battery life, a result of it being so small and lightweight. At full power it'll only last 1 hour, shorter than even our most unenthusiastic night rides. As the battery runs low the light flashes to warn you its time to head to the pub or risk a dark walk home.
It's also worth noting that Exposure lights need a specific charger for the mains or for USB. That's no big issue but reduces the 'quick charge at the office' or 'I lost my charger' options that you seen on other lights.
The short burn time is remedied by flicking the Diablo between modes as you ride, using full power for the downhills and lower powers for climbs and faffing. With a bit of switching you can extend your rides beyond the three hour mark and still get full power on the downhills.
Changing modes is done with an easy tap of a button and you can custom programme the modes depending on how much battery life or brightness you need. If you're still struggling with burn time, various external batteries are available, like this for £49.95 or this for £85.45.
Last but not least, size of the Diablo means it's a great do-it-all light if you swap between bikes a lot. You can chuck it on your bars using a cheap mount like this and it'll make for a very good light for commuting or riding to the pub. It's small enough to drop into your pocket when you reach the boozer and the lower brightness settings won't blind everyone else on the cycle path.
For your bars: Exposure Race Mk12
The Exposure Race Mk9 is made from the same tough, weatherproof, lightweight CNC'd aluminium as the Diablo but in a slightly bigger, brighter package.
The race could just about be head mounted but is best used as as a bar mounted light. It punts out a lofty 1900 lumens whilst keeping the weight down to just 186g (that's about 3 Mars Bars, by the way).
At £239.95 one of the least expensive of Exposure's big bar mounted lights and forms a good package of price/power/weight.
On the trail it's big, bright and powerful and again has no nasty hot spots or dark bits in the middle of the beam. The beam is wide enough to illuminate the full width of the trail and casts a very even, consistent spread of light.
The Race comes with Exposure's 'Reflex+' technology, meaning that it automatically adjusts the light's brightness according to your speed, gradient and cornering forces. This adjusts your light as you drop in and out of the trails meaning less worrying about managing battery life and less hassle if you forget to undip your light.
One of the most useful touches on the Race is the small LED screen on the back. That gives you remaining battery life, shows your current mode and makes reprogramming easier than on the Diablo.
So far I haven't managed to empty the Race on a ride and it's kept going when the Diablo has packed in.  The LED makes managing your battery life super easy and having it mounted on your bars just makes it quick and easy to dip between modes.
So which one is right for you?
Both the Exposure Diablo and Race are brilliant lights.
They light up the trails perfectly, they're bright and cast a very consistent, even beam across the trail. Both are simple to use, simple to maintain and tough enough to resist foul weather and hamfistedness. Working out how to programme their modes is a little fiddly, but no more so than one of those old GoPros.
Buy the Exposure Diablo if you want a tough, reliable, light weight and bright mountain bike light that you can also use on your road bike. It'll last ages, it won't add any discomfort to your riding when head-mounted and it'll take the hassle away from your night rides. It'll last ages and as long as you get off the sofa isn't a purchase you'll regret.
If you've got a bit more budget and find that, after a few rides, you need more light then look into a bar mount. The Exposure Race is a very reliable, very tough and very bright. It's easy to use, easy to bar mount and again, makes your night riding just that little bit easier.
That said, if your budget can't stretch to the Race we've had great results from the Moon Meteor Storm Pro light which you can bar mount, is more powerful at 1200 lumens and is less than £100 (links to Tredz).
Wideopen Recommended
The Wideopen Recommended award goes to the products that we really, really rate and that we'd happily spend our own own cash on and recommend to our mates.
We're stoked to add Exposure's Diablo and Race lights to that list. They're not cheap but they're bloody excellent, tough as old boots and great value for money. Recommended!
---
---