Ladies and gentlemen, just feast your eyes on this piece of absolute mountain bike gold.
It's the late, great Jason McRoy's Specialized S-Works M2 Team that appeared on the front cover of cult MTB video 'Dirt'.
The Malverns Classic was a treasure trove of retro bikes and thanks to the guys at RetroBike.co.uk we had probably the UK's best collection of vintage mountain bikes in one place.
Amongst the collection of very special bikes was one more special than the rest, Jason McRoy's Specialized S-Works M2 Team that he rode in the cult video 'Dirt' and that appeared on the cover of the VHS tape.  The bike was one of two of Jason's bikes at the show but is, we think, the most iconic of the bunch.
Jason McRoy
For those of you who don't know, Jason McRoy was one of the UK's first mountain bike superstars.
Jason started out racing BMX, moved on to race mountain bikes, won British National Champs and then competed in the Mammoth Kamikaze race in '93 where he placed 2nd.
His result earned him a spot on the big-time Specialized/2 Calorie Quest team and really showed the world that British riders could cut it internationally, inspiring the likes of Steve Peat, Rob Warner and many more to follow in his foot steps. He had a flat out, ballsy, aggressive style that really earned him the love of his fans.
Jason was tragically killed in a motor cycle accident in 1995 in Derbyshire. Despite his short career there's few riders that are remembered with the same level of passion by British mountain bike fans and he's seen as a real pioneer of British racing.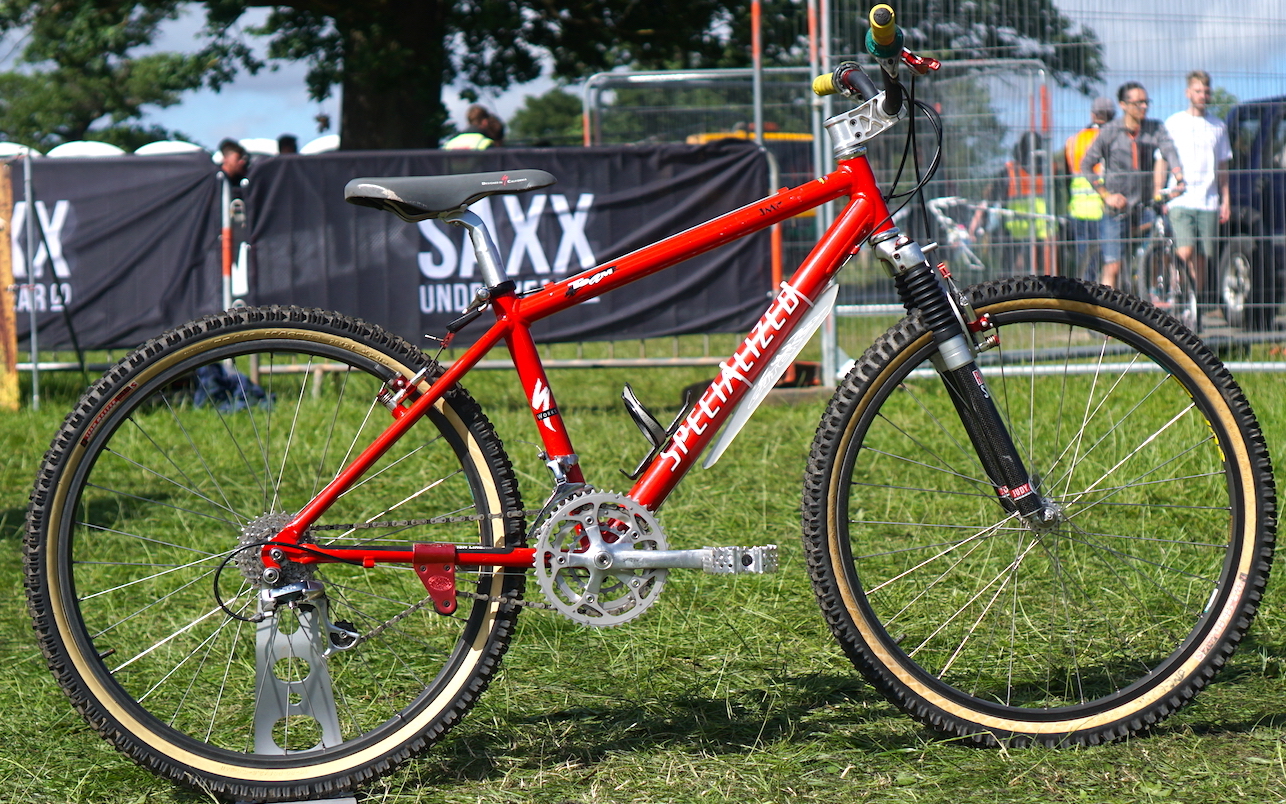 Jason's M2 S-Works Team
Jason raced a few bikes, but this particular one was his dual slalom and play bike. He took a small Specialized M2 S-Works Team cross country frame and built it up with some aggressive kit to make it easy to throw around and suit his flat-out style.  The fork is a Rock Shox special edition carbon Judy FSX with 63mm of travel.
The bike has Odyssey Triple Trap flat pedals, huge 3″ rise Azonic bars and an Azonic Shorty stem that we think is 90mm long.
There's GripShift XRay shifters and an XTR drive train with three chain rings.
Grips are Onza Ules, not to be confused with Onza Porcupine grips!
The brakes are Avid Tri Line cantilevers, there's a Specialized Rib Cage bottle cage, a bright red DCD chain tensioner (THE must have accessory of the 90's!) and a Mr Crud mudguard.
Thanks to the guys at Retrobike for showing us this absolute gem of mountain bike history.
Let us know in the comments what your favourite JMC memories are?
---