Can a gravity-led brand like NS Bikes cut it with the big gravel dogs when it comes to grave? The NS Bikes Rag +1 got the Ben Plenge treatment to find out.
Polish bike brand, NS are better known for their hardcore DH and trail machines, but with the RAG they are dipping their toes into the world of drop bars and skinny tyres. Ben rode the top of the range NS Bikes RAG +1 all winter to see how it fared.
Key features:
NS Gravel+ carbon fork
SRAM Apex 11-speed drive
SRAM Apex brakes
NS Rotary 15 hubs on Alex Draw rims
£1699.00
Buy online at The Active Style for £1,599.99.
Frame and Build
When Hotlines, the UK Distributor for NS Bikes, said they wanted to send a RAG+, I immediately asked for this one as I have always loved frames with a raw finish. I just love the low-key stealthy vibes that this bike has, and it got compliments everywhere I took it.
The frame is 6061 T6 Aluminium featuring butted tubes and struck a nice balance between stiffness and comfort out on the road. It feels robust and solidly-built without being overly heavy, and the stout carbon fork adds a degree of comfort when you leave the tarmac and head into the hills. Both the frame and forks have ample tyre clearance for the 40mm WTB Nano tyres, and it can accommodate 27.5" MTB wheels with tyres up to 2.2" if you really don't want people to think you are a roadie.
The frame features mounts on the seat stays for a pannier and various other bike-packing or commuting bits of luggage and is part of what makes a bike like this more versatile than an outright CX or road bike. Having said that, during testing I used this for a fair few winter commuting miles where I prefer a rear rack and pannier so I don't have to wear a pack.
This is where I discovered that the super-short 420mm chain stays are not very practical at all as I would hit my heels on the bag as I pedalled and that is with my cleats all the way back in my shoes. I had to modify my rack and change how the bag mounted to it to make it work and if you have big feet or a more central/forward cleat position then you won't be able to use a rear pannier.
Whilst the frame was nicely made and looked great, it was really let down by the rubbish cable management. All cables run externally, which is fine, however they are held on to small bosses with re-useable plastic clips. At first I was stoked on less cable ties and less potential waste. That is until I realised the clips were basically useless and kept popping off. The cables were not held firmly enough to stop rattles and the cables could pull through the clips too easily, meaning you had unsightly, slack sections of cable that would flap about.
Finishing kit on the RAG+1 was all totally functional and I had no issues with any of it. The NS branded bar/stem combo gave me a neutral riding position that was neither bum-up racy, or too upright like I was off to the shops. The bars and grip tape in particular were very comfy and I appreciated the slightly flat section on the tops combined with the brushed finish of the tape. Another highlight was the Octane One Crit saddle which seems to fit my gooch like a glove.
As usual with NS, they have some questionable styling, including the copper coloured hubs, seat clamp and headset spacers along with the silly rubber bands on the hubs. On such a stealthy bike it was a shame to see the bold white decals on the rims too. These are only me being picky though and obviously don't affect what is a very capable and fun bike to ride.
Up Hills
The tightly packed tread pattern means you absolutely zip along both tarmac or gravel on the NS, carrying speed into climbs. The SRAM Apex 1×11 gears were bang on throughout, letting you jump up the cassette and get some power down if you really wanted to attack. It shifted well under load and the 42t chainring along with 11-42t cassette gave plenty of range for all of the climbing I did, both on and off road.
The RAG+1 comes in at a pretty decent 9.8kg without pedals and had a direct and light feel to it on the climbs, especially when standing. Where some light weight road bikes can feel twisty and flexy under a big sprint, there was no hint of this on the NS and it felt more like a lightweight hardtail mountain bike than a flimsy carbon road bike.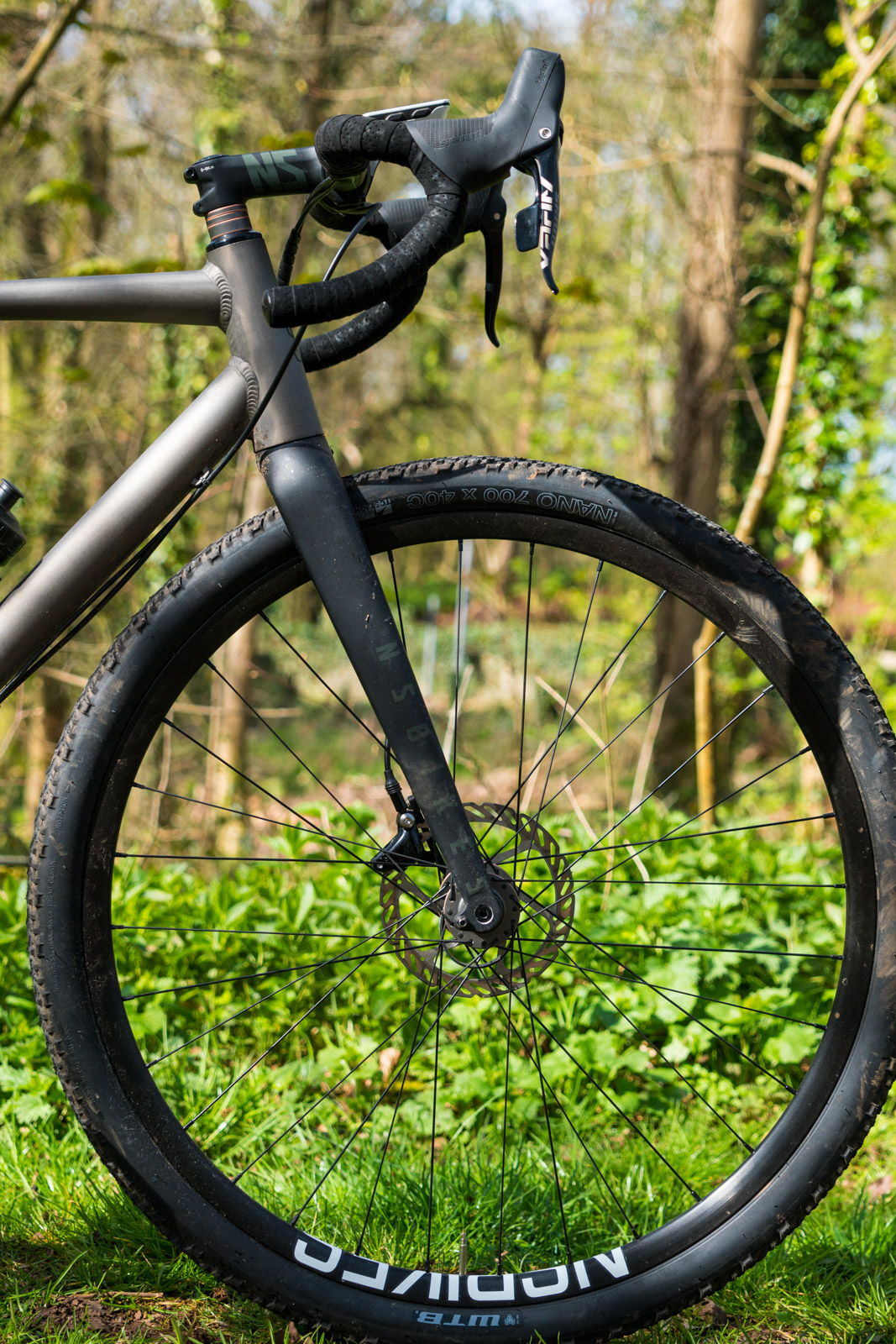 Down Hills
On or off road, the NS picks up speed easily. You can confidently let off the brakes knowing that the SRAM Apex hydraulic disc brakes and WTB tyres would slow you down in a flash in most conditions. On looser surfaces the rear end does lock up very easily under the power of the brakes and this is not helped by the short chain stays, leading to the rear wheel trying to over take you if you get carried away.
On rougher bridleways if you have the confidence to let it run then it is surprisingly fast, skipping over rocks and roots, but you do feel like you are flirting with disaster as you death grip the drops. To be fair this is basically what gravel riding on rough tracks is and it gives me fond memories of mountain biking in the 90's. I would describe the NS as lively rather than stable feeling when off road, but I can't deny that it is fun. The tyres are thin enough (by MTB standards) to slash through muddy turns, and wide enough (by road standards) to give you a bit of grip and damping from the trail surface.
Reliability
No issues during a few months of very wet, and often muddy riding.
Compare
The closest comparison I can make is to the Nukeproof Digger that I reviewed in 2018.
Both bikes feel like they are aimed at mountain bikers, rather than roadies and I really enjoyed riding both bikes on and off road. They are pretty similar bikes in most scenarios, with the Digger's longer chain stays and wheelbase just giving it the edge on rough terrain. The NS also has a more energetic feel to it on fire roads and tarmac when under power.
What do we think?
I have really enjoyed the NS Bikes RAG +1, and think it is one of the best looking bikes I have had in ages with the raw frame finish and black components. It seems to be bombproof and should last you a long time, a real workhorse of a bike that can also get a bit loose and wild if the mood takes you.
We love:
Raw frame and stealth styling
High volume 40mm WTB tyres
Could do better:
Check out the NS Bikes Rag +1 and the rest of the range on NS Bikes' website here.
Read all of Ben's full bike reviews here.
Buy online at The Active Style for £1,599.99.
---