Photos by Ian Lean / Words by Jamie Edwards / Video by Miles Malinson
Si Paton and the British Downhill Series crew aren't stupid.
Timing the Fort William round of the British Downhill Series within a month of a World Cup at the same venue is, you might argue, a stroke of absolute bloody genius.
Sure riders can practice the track at any time – but add a stop watch and the whole thing changes. We rolled into the car park on Friday and there were at least seven World Champions on the hill. There were three elite teams testing prototype 29″ bikes, Transition Factory Racing were on a brand new prototype frame, 1Vision Racing were strapping lead weights to their bikes (seriously), The Athertons were out in full force with their telemetry system.
Forget the fact there was a bicycle race on … the World Cup hadn't even started and Fort William was already the epicentre of World mountain bike racing. Not bad for a little British National race, right?
Here's Loic Bruni and crew enjoying the views on track walk.
Fort William's track on Aonach Mor was first raced in 2001 and later was adopted onto the World Cup circuit after a Japanese venue dropped out. 2.8km long and every bit of it an absolute bastard it's the UK's biggest and baddest. It was first won by Steve Peat and Fionn Griffiths and has been raced almost 70 times since that day.
16 years later and Steve wasn't on track but the start list was packed with World Cup heavy weights and hardcore British racers alike.
Brayton has never won a race at Fort William … but he's definitely one of our favourite riders to watch tear the track to pieces. He had a chilled day's practice on Saturday and then punched out a 7th place in seeding. He knocked nearly 10 seconds off that in his final run and took a 5th place in finals.
Scotty Mears. The people's champion, bike shop owner, MMA fighter and all round pinner. Scotty returned to downhill this weekend after a brutal crash that saw him out of action for months. He crashed out at the Coastal Gravity Park in Canada and ended up with his mate's thumb inside his artery to stop him bleeding out. After a winter of recovery he built his bike up last week and came for a shred.
Scotty used the weekend to see how his recovery was going. Can't be bad with a 25th in finals.
"I fell from about 35 feet and landed on my arm and leg and snapped my femur in about three places, snapped my elbow in half pretty much.

That was a compound fracture which clipped an artery so there was a lot of blood and stuff.

I ruined a few lad's jerseys with that! It's all good now though!"

Scott Mears
Every British Downhill Series day starts with this – the Marshall Briefing. Si and the crew pride themselves on running events with more marshalls than any other race. Quantity doesn't equal lack of quality though, stop in on the marshall's brief and you'll see how well these guys are looked after. Cheers for giving up your weekends to keep us safe guys!
It's awesome to see international young guns getting on a plane and travelling to race the British Downhill Series. Valentina Holl and her dad Walter joined us for the weekend and were guests in the Wideopen pits.
She's only 15 but has already got heavy weight support from YT with a 6 year contract, racing against the boys at the IXS Cup. We weren't sure what to expect until we saw her destroy the Motorway jumps. Vali crashed on track, got the tape wrapped up in her bike and still took 2nd in junior women … just four seconds behind Mille Johnset.
Another foreign young gun is the awesome Yoav Rapoport who regularly travels to the UK from Israel with his old man. Yoav first raced in the UK in 2016 at Ae forest, his first ever time riding on mud. The rumour is that Yoav's dad has given up his job for a year to help support his son's racing.
A year later and Yoav is absolutely pinned – we watched him hit the Hip Replacement jump like a seasoned pro. 2nd place for Joav in juvenile. Keep it up young gun!
In amongst all the elite level bullshit, 29'er chat and protoypes there was actually a British National race going on with a tonne of UK riders battling for glory.
Here's Hot Pursuit's Greg "huck" Berry sending one in the expert category and probably not giving a shit about the size of his wheels or his telemetry data.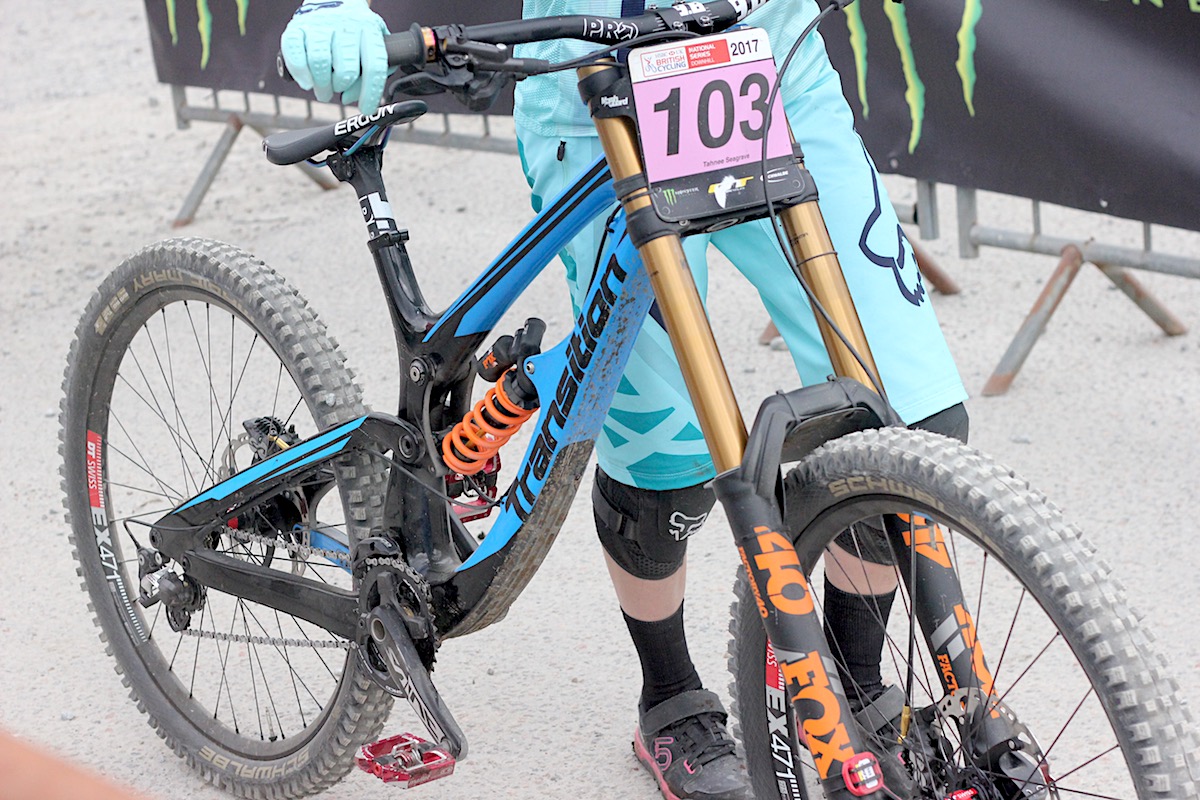 With just three weeks to go before the actual, proper World Cup a heap of racers were using the event to test new bikes and new technology. Tahnee Seagrave was riding her new Transition TR11 (with 27.5″ wheels) and Danny Hart, Gee Atherton and the Commencal team were all rolling on prototype 29″ wheeled downhill bikes.
I don't know about you – but I think it's a real credit to the BDS that these guys use the races as a proving ground for the World stage. More please.
Running the #1 plate is Matt Simmonds.
He battled Joe Smith for the overall series in 2016 and came away with the title. They say a series is won on your worst day … which bodes well for Simmonds who punctured in seeding and in finals.
We were really hoping Team Wideopenmag's young guns would smash the Youth field and this guy turns up. Loic Bruni's protege and riding his old bike, Thibaut Daprela put 11 seconds into 2nd place, took 23rd overall and was the only youth to break the 5 minute mark. This kid is next level, World Champ of the future material.
The young Canadian Finn Illes – another World Champion on track. Finn went fastest in seeding and fastest in race runs putting 7 seconds into 2nd place Joe Breeden.
Speaking of Joe Breeden … here he is racing for Intense Racing UK in his second season at World Cup level. Joe is putting in the hard yards under the guidance of team manager Oli Morris and working his ass off to pop his World Cup podium cherry. Second place, behind Fin shows he's got what it takes.
What's more important – results or steeze?
Kaos Seagrave took third in junior men but way, way more importantly toboggan'ed the Visit Scotland jump and spent the weekend whipping the shit out of Fort William. Keep doing them and we'll keep running them mate!
Another big gun on big wheels. Remi Thirion and the Commencal team were one of at least three elite teams racing 29″ but, unlike the others, didn't bother with pro pits and a grandiose presence. Remi, Thibaut Ruffin and Pom Pom turned up in hire cars, pulled their bikes out the boots and got to work.
Unlike Danny and Gee, the big wheels didn't seem to work quite so well for the Commencal crew. Remi took 8th despite going 4 seconds faster in finals than in seeding, Thibaut destroyed his back wheel and Pom Pom crashed in her final run.
The sharp end. Marcelo Gutierrez Villegas from Columbia. 3rd at Lourdes World Cup, top 20 at World Champs and 6th at Vallnord in 2016. We've got no idea what the trails are like in Columbia but clearly they've got the good stuff.
Marcelo took home the prize for fastest through the speed trap, was fifth fastest in seeding and took the third spot on the box in finals. We're really looking forward to seeing what he can do in a couple of weeks at the main event.
Riding the brand new prototype carbon Transition TR11, Tahnee was looking strong all weekend. She punched out 5 runs on Saturday and put in the fastest run in timed practice by a decent margin.
Sunday was good … but not quite good enough with a second place in seeding and finals just one second behind first place.
Tahnee was also, interestingly, running a prototype heat sync on her rear shock that's rumoured to improve performance by 15%. More on that later …
Greg Williamson is having a hell of a season. He has already won two races out in the US and took home 13th at Lourdes World Cup. Greg took third in seeding and then rode super consistently in his final run – going fourth fastest through both of the timed split points.
He matched his seeding result with a third place in finals.
Gee Atherton.
We watched Gee from the chair lift as he tore the top section to pieces. Riding his prototype 29" Trek Session, Gee was charging as hard as we've ever seen him. He went three seconds slower than Danny in practice and then recovered to go fastest by three seconds in seeding.
Finals were bad. The crowds watched the men's elite field charge their way down the hill and with Gee last man down they waited. And waited. And waited. And then the race was over and there was no sign of him.
The news trickled down the hill that he'd crashed on the hip jump way up at the top of the track and getting him off the hill wouldn't happen in a hurry. Podiums came and went. The car park cleared and finally Gee, a host of medics, team manager Dan Brown and the Fort William crew appeared stretchering him into an ambulance. Gee went on to Fort William hospital for an Xray and then to Glasgow with a dislocated hip.
It's never great to see riders crash but somehow it hurts a bit more when you see the heroes of the sport take a big hit. Get well soon Gee.
Rachel Atherton didn't help a tough weekend for Trek Factory Racing. She looked fast all day Friday, was out testing with the team's new telemetry equipment on Saturday and seemed in great spirits. Then, she simply didn't show up for seeding. No seeding run. No race run. Answers on a post card.
Manon Carpenter had spent the few days before the race with a bad chest, debating whether to race. She had a quiet practice day on Saturday with only two runs down the hill and (she tells us) needed a shove from her mechanic to get stuck in on Sunday. She'll be glad she did – seeding fastest by two seconds and taking the elite women's win.
I asked her if she felt under any pressure from riders on big wheels "nah, none" she told me. Fair.
"It was quite wild actually! It got a lot drier than seeding and I had quite a big moment at the top.

That woke me up and I realised how slippy it was! I came into a corner and the front wheel understeered and almost shot me off!

I didn't think I'd go that much quicker and Tahnee went quicker so I think we had a good race."

Manon Carpenter.
Elite women's top 5:
Manon Carpenter
Tahnee Seagrave
Lucy Drees
Sophia Paull
Elena Melton
Elite women's series overall top 3:
Manon Carpenter 440 points
Tahnee Seagrave 310 points
Sophia Paull 289 points
It was Loic Bruni's birthday … but he suffered the same shit luck as the rest of the elite big dogs.
We expected him, Gee and Danny to dominate seeding but only Gee made it down in one piece. Loic got blown by the wind mid-track, took a dive and ended up in Fort William hospital getting two stitches in his foot.
Loic made it back for race runs and thanks to his dodgy seeding run was the first elite rider down the hill. I watched him tear through the Motorway and over the Visit Scotland jump, announcing the start of the Elite field at a pace that could well have won a World Cup, never mind a British National.
"It was up and down I would say! Today was about making sure we all the setup ready for the World Cup and my seeding run went a little bit not as planned. I took the wind in the middle of the track and I went down pretty hard. I went and got stitches in my foot and I wasn't sure about racing in the afternoon.

I went for it and I tried to do a pretty smooth run. I made no big mistakes and I was pretty happy. Not so fast but it was good!"

Loic Bruni
And last but very much not least. The man that almost single handedly turbo charged a national race into something way more like a World Cup.
Danny pulled out his 29″ prototype Mondraker Summum on Friday and immediately went scarily fast. Despite the internet hype around the new bike he was reassuringly very 'Danny' about the whole thing and stayed completely down to earth. I asked him what he thinks about the fuss they're creating… his answer? "Get a life, get off the internet and go ride your bike!"
Danny went fastest in practice on Friday but punctured in seeding, handing the top spot to Gee. He hit the track early in the elite field following Marcus Engelstjerne down.
When Danny dropped in, Loic had already crossed the line at set a 4.33.487, going fastest at both splits. Loic didn't get long in the hotseat though and just three riders later he was shaking hands with Danny Hart and wondering where he could find two more seconds. Danny simply went faster. Faster at both splits by one second and fastest across the line with a 4.31.807.
"Yeah it was good. I won so you can't ask for much more can you? I had a bit of a disaster in seeding but I knew I had good speed so I didn't stress about it.

I've only ridden the bike for less than a week so it's good for my confidence. The more I ride it the better I should get."

Danny Hart
Elite men's top 5:
Danny Hart
Loic Bruni
Greg Williamson
Marcelo Gutierrez Villegas
Adam Brayton
Elite men's series overall top 3:
Danny Hart 422 points
Gee Atherton 240 points
Matt Simmonds 236 points
Next stop is Rhyd Y Felin, North Wales for Round 3 of the British Downhill Series on 17th / 18th June.
–
Learn more about Tahnee Seagrave's prototype carbon Transition TR11 bike here
–
Thanks to the British Downhill Series team for another top weekend and to Mr Ian Lean for working his ass off to bring us more photo gold. Ian edited these photos on the motorway, stuffed into the back of Team Manager Dave's Audi – cheers man!
---