Granite Design's Hex Stand is a lightweight, portable and folding work stand that aims to make bike maintenance easier.
Need to know:
Light weight, folding, portable work stand
Weighs 720 g
Max load 20kg
Dimensions:

Open – 415(H) x 480(W) x 380(L) mm
Close – 415(H) x 110(W) x 85(L) mm

Color:   Black, Sliver, Red, Blue, Green, Orange
79.99 USD
Introducing the Hex Stand
The Hex Stand is a folding, portable and light weight bicycle work stand. It's designed for all of those situations where you don't have a full size bike stand but need to get some proper work done – the car park by the trails, the chalet on holiday, your tiny city centre flat, wherever.
Whilst there's no substitute for a proper work stand (like this) there are times when you just can't get your hands on one. The Hex Stand folds down smaller than a track-pump and weighs just 720g. It's small enough to shove in a suitcase or bike bag and will do no more damage to your baggage allowance than an extra pair of trainers or a trail helmet. I carried one strapped to my hand luggage from Eurobike and it genuinely added no hassle to the 10 hour bus/flight/bus trip.
You could even stick the Hex in a bag and ride with it – something that might be useful for race mechanics, spannering at events or when you're hitching a lift with mates.
Compatible with hollow axles
The stand works with bikes with a hollow axle – fitting most mountain bike cranks as standard or Shimano road cranks with an adapter. There's probably some riders out there that have cranks that don't fit the stand … but they're most likely the exception these days.
So, how does it work? The folding arm at the top of the stand pops inside your axle, lifts the wheel off the ground and lefts you work on your bike without needing to lean it against a wall or risk it falling over.
The sliding design allows you to adjust the stand to fit different sizes and shapes of bike and (most usefully) the Hex allows you to spin your pedals, something similar designs fall short of.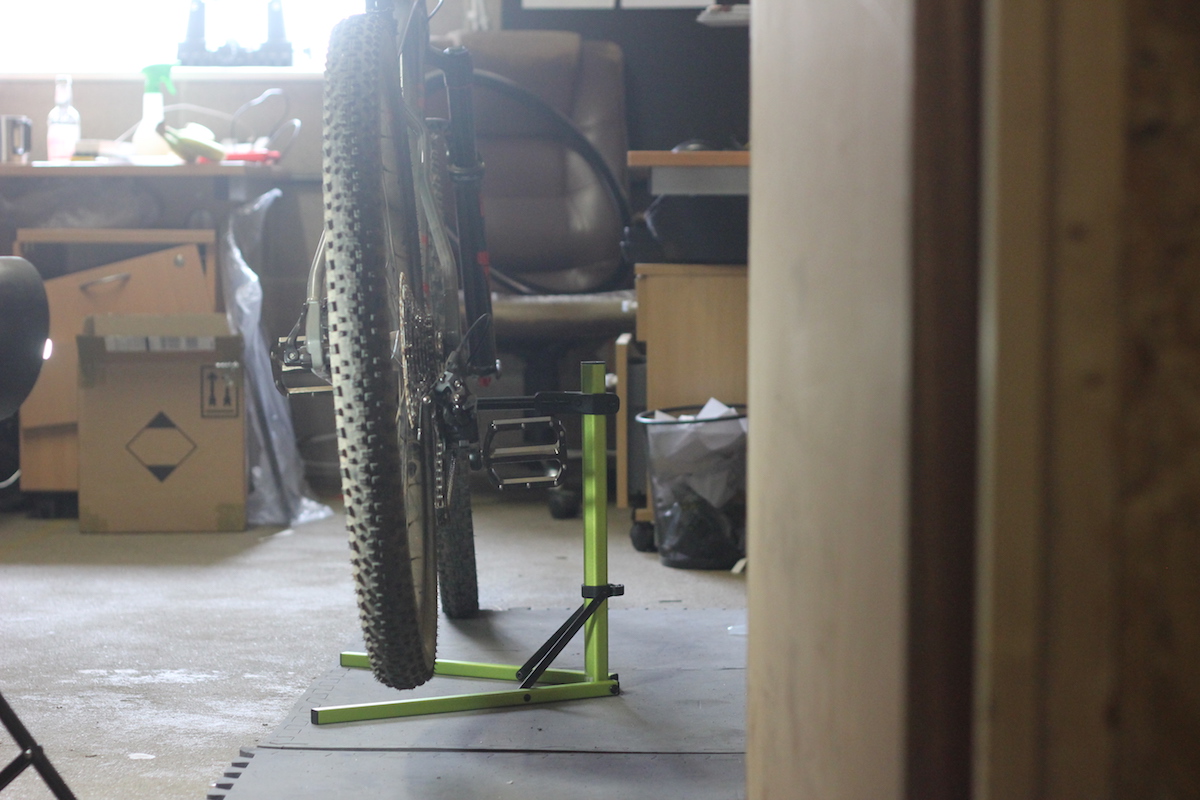 Simple and faff free
So far, the Hex is a really promising bit of kit. It's quick and easy with the whole thing packing up or down in under 5 seconds. It's very simple, very unfaffy and really quite uncomplicated to use – even with cold fingers or in a rush.
The Hex is never going to be as solid as a proper workshop standard work stand, but for basic maintenance it seems to do the job very nicely. It gets the rear wheel off the ground and allows you to spin your pedals without obstruction – everything you need for setting up gears and brakes and for tuning and adjusting. It's worth noting that the max weight of the stand rules out heavier downhill or eBikes.
If you like the idea of having a work stand in the boot of the car or in your bike bag for trips, or even if you're tight on space and can't fit a full sized stand, this could be a great shout. We're looking forward to getting loads of use out of it.
The Granite Design Hex Stand is on sale now and is available online here.
---