Do it properly and winter mountain biking can be just as good as riding in any other season.
Here's some hard-earned advice on how to give your Winter a turbo-boost to keep you off the sofa and out on the trails!
We've been lucky this summer here in the UK. The sun has beamed down and the trails have been prime. But, you know as well as we do that it's all about to change. The season of slop is on the way and it's about time to start getting set for winter!
We've amassed quite a few years of battling through the snow, the slop and the grit here at Wideopenmag so have a bit of experience when it comes to battling on, making the most of it and being typically British about the whole thing!
Here's our pick of the must-haves that will take your winter riding to the next level!
Some proper mud tyres
Sure, changing your tyres is a pain in the ass but a decent mud tyre can transform your winter.
As the ground gets sloppier, you need something with a open tread to help clear the mud and cut through the gloop. Steering will get less terrifying, your wheels will clog less and you'll be able to charge on as your mates go slideways. You can probably ignore this tip if you're riding surfaced trails most of the time… this is for anyone riding loose, muddy, natural stuff.
Our advice is to start with a mud tyre on the front as conditions change. If you're still struggling for grip, go for a rear tyre too.
We're big fans of both the Maxxis Shorty or our team favourite the Continental Der Baron Projekt with Apex casing for both front and rear through the darker months. We've also had good experiences with the Vee Tyre co Flow Smasher.
Buy online: Maxxis Shorty DH MTB Tyre 3C EXO TR £34.99 on Chain Reaction
Cleaners and lubes.
Any winter ride is going to end with some TLC for your bike and for that, you need some top quality cleaners and lubes. If you're not one of those people who will just wash the wet mud off before you step into the house, then you'll want something to help you shift the muck.
Juice Lubes bike cleaner has been a Wideopenmag favourite for ages because, simply, their products work really well. We'd recommend the Juice Lubes Scrub N Buff Pack which contains everything you need for a winter of bike washing (and is cheaper than buying all the bits separately).
Some well-sealed, sturdy flat pedals.
Winter is definitely time to leave the clips at home and get loose, and that's where a good set of flat mountain bike pedals come into their own.
With a lack of grip around the local woods, flat pedals will help you master technical sections in the filth, make you feel like Sam Hill, and make trails easier to tackle.
You can check out our full group test of our favourite flat pedals right now here on Wideopen.
Buy online: Nukeproof Horizon pedal on Wiggle(£32.99) or the Nukeproof Horizon Pro pedal Chain Reaction (£64.99).
A decent mudguard.
If you want to go fast on your bike in the winter, you need to be able to see. A good muguard will help keep your peepers clean no matter now filthy the trail.
The Mudhugger FR is designed for downhill and enduro riders and to keep as much muck off your goggles and your face as possible. It's lightweight, easy to install, and keeps you fork seals clean too. At £23 we reckon it's a no-brainer purchase for the winter.
We'd also recommend (after years of reluctantly avoiding them) the Mudhugger Rear Mudhugger. Sure, they're not the coolest looking bit of kit but they're absolutely brilliant and keep your arse dry in the wettest conditions. If you (like us) head to the pub after a ride they're an essential.
You can read our pick of the best mountain bike front mudguards for downhill, enduro and super muddy riding right here.
Buy online: Evans Cycles (£11.00), Merlin Cycles (£15.00) or Tredz (£17.10).
A portable jetwash.
Sometimes it's easier to take the jetwash with you, wash the bike at the trails and keep the car clean. You'll help prevent the spread of Larch and other tree diseases and you won't have to drag your bike through the house and mess up your poor carpet.
We're big fans of the Mobi V17 which runs off its own battery or the ciggy lighter in your car and has a massive water tank and plenty of pressure. We've also tested the Karcher OC3 which is a bit small for decent bike washing but is good if you're tight on space.
Buy online: Karcher OC3 at Go Outdoors (£108.00) or Tweeks Cycles (£130.00). 
Buy online: Mobi V17 on Wiggle (£99.99)
A decent pair of cold weather gloves
For the warmer months, we prefer to go for thinnest pair of gloves we can get our hands in to. But for winter mountain biking, it's worth upgrading for something warmer. Warm fingers will keep you out on the bike longer, with better control, less grumpiness and more good times. It'll also be a lot less unpleasant when you're pulling your brakes, shifting gears or faffing with kit.
For winter, it's best to skip to a good pair of cold-weather specific mountain bike gloves. Unless you suffer from the cold, we'd recommend finding the thinnest pair you can wear and not feel the cold. You want to keep as much 'feeling' in your hand as possible, which is lost with thick and bulky gloves.
We'd recommend a neoprene backed glove with a decent cuff like the 100% Brisker (£26.99 at Tredz). For proper cold conditions, the Alpine Stars Cascade (£60 on CRC) is worth a look.
Some big, bright mountain bike lights.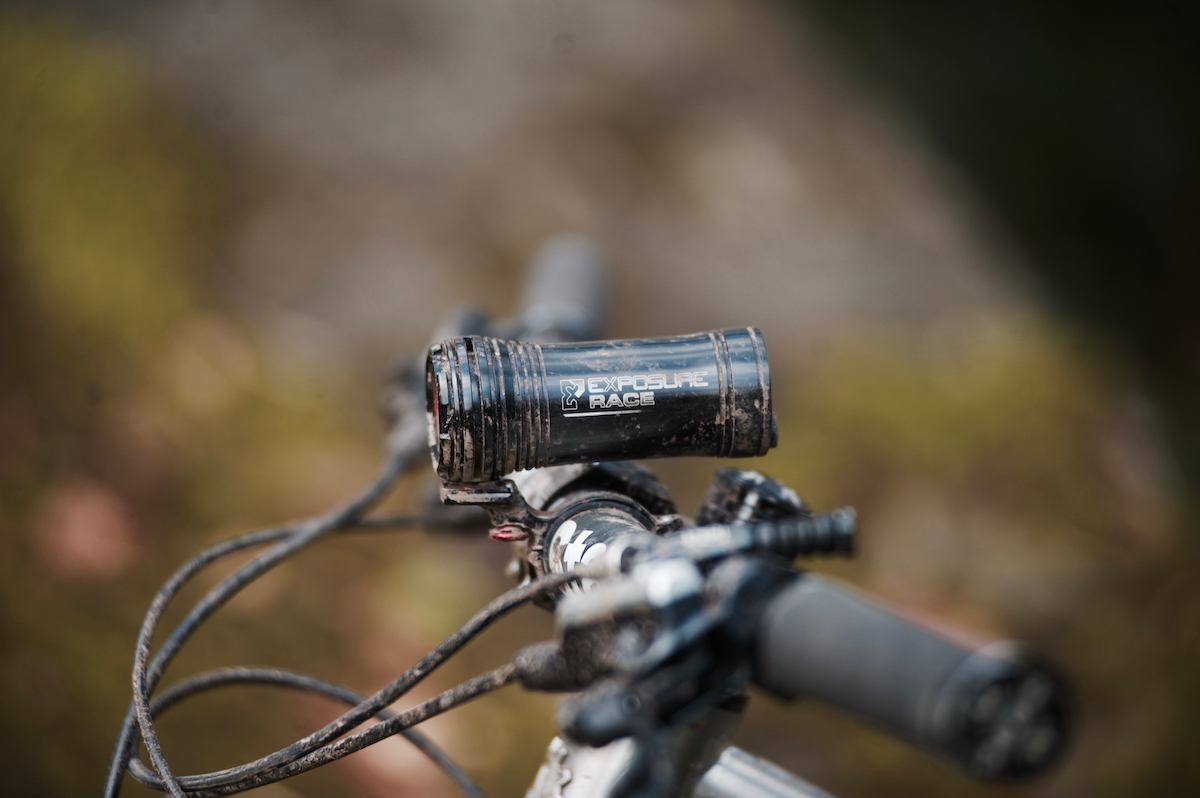 If you want to keep your time on the bike up this winter then you're going to need to head out into the darkness, and for that, you're going to need some quality lights.
Jamie tested the 2018 Exposure Mk9 and Race Mk12 lights and found that though they're not cheap, they are tough as woodpecker lips and provide a fantastic amount of light for a long old while.
Pete's had a Diablo Mk 5 since 2013 that's been through the washing machine a few times by accident and still comes out the other side like it's only a day old.
Buy online:  Exposure Mk9 at Rutland Cycling (£159.95)
Racing.
It can be tough to get inspired during the winter… but a race gives you something to look forward to and an added kick up the arse to get out of the house.
There's plenty of excellent races to keep your skills sharp during the winter, so don't fear getting rusty during the darker days.
The Mini DH Series based at Forest of Dean is a fantastic way of staying in touch with your racing mates, racing the clock and keeping the cobwebs at bay. There's also the Welsh Gravity Enduro Series and many more. MoreDirt is a great resource to find out about UK mountain bike racing.
Coaching and fitness training.
Its easy to think that all that Summer bike time will power you on into the winter. We all struggle to stay fit during the winter when motivation is at its lowest, but getting yourself some professional help can be a godsend.
Team Wideopenmag has been whipped into shape by Ben Plenge at MTB Strength Factory for a few years now and we're all fitter, faster and healthier as a result. We've got a list of UK mountain bike fitness coaches right here to find someone in your area.
Coaching really depends on where you are but there's plenty of good coaches out there. Our own Chris Hutchens offers coaching in and around Bristol, there's Ben Cathro's Sick Skills and Dirt School in Scotland.
A good waterproof jacket.
It kinda goes without saying, but your thin, boil-in-the-bag summer jacket that sits at the bottom of your pack for emergencies just won't cut it in the winter.
You're going to need  something with some serious waterproofing, but also a heap of breathability as well. Arm pit and side vents also help for those big, sweaty climbs and warmer dys when you don't want to stew yourself.
We've tested loads of jackets but the Endura's MT500 jacket continues to rule the roost. We've also got a round up of mountain biking jackets for less than £100 here.
Buy online: Endura MT500 jacket at Cyclestore (£124.99)
Winter sun.
If the cold, dark and slop get a bit too much for you, then it's time to flee the country for a trip away for some winter sun.
The Mediterranean has been a popular spot for many a year and stays warm when it's wet and wild at home.
Mountain Sun in Tignes offers uplifts into the autumn after the lifts have closed.
We love Malaga in Spain and we're stoked to see that enduromalaga.com have taken up running holidays there. Further afield, you could try Wheelers in Lousa, Portugal who we visited this summer.
If you're feeling flush though, you could always go the whole hog and vanish to New Zealand!
A simple and solid hardtail.
If you're that kind of savage (it's ok, we understand) that leaves their bike in the shed covered in mud, then extra pivots, suspension and bearings aren't going to be your friend over the wetter, colder months.
Why not invest in a cheap hardtail frame that you can just swap the parts off your full bouncer onto and revel in the simplicity that is?
Jamie is currently out thrashing the NS Bikes Eccentric Alloy as a Winter Whip.
Check out our list of the top mountain bike hardtail frames under £500 here.
Uplift days.
If you're after a solid day with your mates hammering out the laps, then an uplift day through the winter can be the ideal way to get some serious descending time under your belt.
Give your drivetrain a rest and let the vehicles do the work for a change, giving yourself the luxury of keeping all your energy for the downhills.
There's plenty of great uplift services around the country, you can check out our feature on the pick of the bunch here.
Waterproof socks.
Keeping your feet dry during the winter can be a massive uphill struggle. As you charge through the muck and slop, your feet tend to gather a lot of the cack leaving your front tyre, leaving your feet soggy and cold within minutes.
A good pair of waterproof socks will keep your feet dry and warm, making those longer rides way more comfortable and those faster blasts a little more palatable.
Sealskinz do a fine line in waterproof socks, check out the Mid-Length Hydrostop socks.
A nice set of tools.
If all of the things in this list get you riding as much in the winter as you do in the summer, then your bike will need some serious TLC.
Bearings will need greased or swapped, cables will need lubed or replacing, fork seals will need plenty of love… and your poor dropper post is going to test your patience.
A decent set of tools can make the winter a lot easier on the wallet.
The Topeak PrepBox tool box is an excellent collection of great quality tools that comes in a sturdy carry case. It's not cheap, but it'll pay for itself in the long run.
A workstand.
There simply isn't any point in buying a heap of tools then having to run the bike upside down or hold onto it when you're working on it.
A workstand makes the job of tuning up your bike way easier, especially when it comes to linkages, drivetrain and the other fiddly bits.
Granite Design's Hex stand is a lightweight, foldable workstand that isn't as hefty as the rest and doesn't clamp onto your pride and job either.
---
How did we pick this list?
We get sent loads of products to review here at Wideopenmag. This list is made up of some of the best bits that we've ridden and tested over the last few months and some bits that we've got our eye on and would like to test. Where we've not tested it, we've hopefully made it clear in the description.
We've done our best to find you the cheapest price online for each of the products …but where we've not got it right (or the price has changed since we published the story) you can tell us in the comments and we'll update the story.
We haven't been paid to include anything in this story but we do take a small cut from some of the sales that are made where you click through and buy. We'll always link to the cheapest price that we can find online, regardless of whether we'll receive a cut.
---