They may look like something out of the 90s, but Ben has been finding out if the Fasst MTB Flexx Enduro Handlebars live up to the hype.
With modern bikes being glued to the trail with complicated linkages and dampers, is there room for deliberately flexy bars like the Fasst MTB Flexx Enduro Handlebars? Ben has been finding out.
Photos by Dave Price.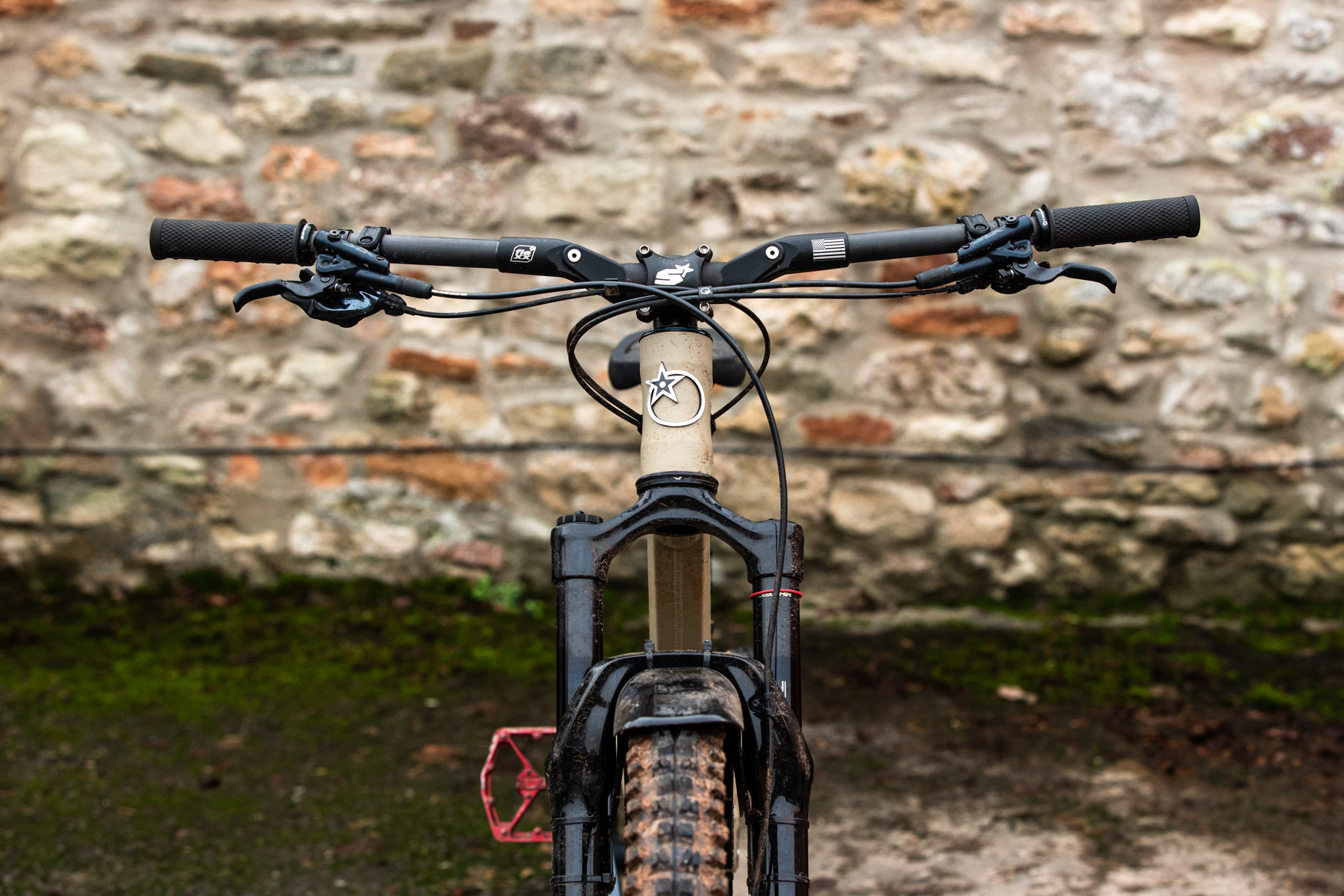 Key features:
450g Weight as tested.
800mm width, 25mm rise
American made UD Carbon
4 Levels of damping elastomer included
Also available in alloy for £329.99
£449.99 RRP
Forget what you think you know about so called 'flex' stems and 'flex' bars. The Flexx Enduro bars from Fasst Company promise to reduce fatigue, increase control and let you maximise every ride.
It is amazing how a product like a handlebar can trigger so many people. Just the thought and look of the Flex Enduro bar is enough to fire up the keyboard warriors and car park tyre-kickers wherever you take this unique piece of kit. The thing is, that none of these people have ridden them, because if they had, they would quickly change their tune.
At the heart of the bars are two 7075 aluminium pivots with titanium hardware that house small elastomers that control the amount of damping and rebound. The ends of the bars are straight tubes of American made carbon fibre that look and feel exactly like a normal bar when you mount your brakes etc to them. The central section is 31.8mm diameter and the whole bar has an 8 degree back sweep with 5 degree upsweep. They weigh in at 450g which is about 100g more than a high end alloy bar like a Deity Blacklabel 800, so not too bad when you consider all the engineering that has gone into these.
Out of the box, these come with the medium damping elastomers fitted, with the option to switch out to soft, hard or extra hard should you wish to. I kept the mediums fitted for the whole test.
After fitting the first thing I did, and I expect everybody does, is to try and flex and twist these bars as hard as you can, pinching the front tyre between my knees. As well as curing my curiosity, this process also gave me confidence that there is absolutely zero lateral movement or play in the system. The only movement is vertical, exactly as intended. I was able to flex one end of the bar down more than the other by applying more weight and I did wonder how this would feel on the trail.
For most of the test the Flexx Enduro Bars were fitted to my Orange Stage Evo RS test bike, a real short travel ripper with such capable geometry that I felt it justified the extra suspension in addition to the 130mm fork. Sadly lock down kept me out of South Wales and the roughest tracks so all testing was on natural single track that you might rate as 'red.'
Put simply, these bars are a genuine upgrade. I had an immediate increase in my levels of control, and the rootier and rougher it got, the more they helped. I actually never felt the bars flex or move, you just have a sensation of smooth control, and it never felt weird, like one side was flexing more than the other.
It is hard to quantify any reduction in fatigue on my short, local tracks, but based on the sensation of smoothing the trail, I am sure that on long, rough tracks these would reduce hand pain and upper body fatigue. For some riders, it is their hands and grip that genuinely limits their enjoyment of riding, and to them I would suggest getting the credit card out to give these a try. The great thing is that they have a 30 day, "Ride It, Believe It" money back guarantee, so if you don't like them, you just send them back which should give you confidence when shelling out so much cash.
What do we think?
Increased control and reduced fatigue is a winning formula, if you can afford them. Now we want to take them to the Alps this summer to see how they perform on the longest, roughest tracks around.
We love:
Smooths the trail, with no loss of 'feel.'
Precision engineering and adjustable.
Could do better:
You can check out the Fasst MTB Flexx Enduro bars on Fasst's website here.
Read all our product reviews on our Gear page here.
---